Fiat Lux (oké een beetje dan)
Marjolijn Storm

How many translators does it take to change a light bulb? Misschien niet helemaal de juiste vraag voor deze context. Poging twee: How many translators does it take to produce a good translation? Dat begint ergens op te lijken.
De vertaalworkshop Nederlands-Duits van 16 tot 18 april in München was een van de vele evenementen georganiseerd door het Nederlandse en het Vlaamse Letterenfonds ter voorbereiding op de Buchmesse 2016 in Frankfurt, waar Nederland en Vlaanderen gastlanden zullen zijn. Een dergelijke workshop had eerder al in Berlijn plaatsgevonden. Centraal stond niet alleen het vertalen zelf, maar ook het zichtbaar maken van de Nederlandstalige literatuur en van ons vertalers. Tijdens die dagen zou voor de buitenwereld inzichtelijk gemaakt moeten worden wat zich afspeelt in de bovenkamer van vertalers door er het licht aan te doen en de gordijnen te openen. Tommy Wieringa's lezing samen met zijn vertaalster Bettina Bach was hiervoor een goed begin en de levendige discussie over literatuur en vertalingen bij de Consul-Generaal en zijn vrouw een goed einde.
De workshop vond plaats in het Literaturhaus München onder leiding van Hanni Ehlers. De eerste dag behandelden we de twee Zeer Korte Verhalen 'Schade' van Pol Hoste en 'Details' van A.L. Snijders. Pol Hostes 'Schade' bracht velen van ons in verwarring omdat de tekst zo abstract is dat je hem gewoon niet helemaal kúnt begrijpen. Dit bleek een goede oefening om ons uit onze comfort zones te doen treden, want als vertaler wil je immers wél alles tot in het kleinste detail begrijpen voordat je het vertaalt. Het gaat om zinnen zoals deze:
Uit onbekende gebieden – streken, bieren, hop, jenever – komen geschoolde, haveloze zwervers toegestroomd die me overvallen en beroven en eisen dat hier orde op zaken wordt gesteld.
Een zichtbaar verband met de context bestaat niet, dus wat je je bij die 'haveloze zwervers' precies moet voorstellen – Streuner, Berber of Migranten – wordt niet duidelijk. Het idee om de tekst als prozagedicht of als abstract schilderij te beschouwen hielp. Zo kwamen we wat de vertaalstrategie betreft tot de interessante en misschien vandaag de dag niet meer helemaal politiek correcte conclusie dat je gewoon moet vertalen wat er staat (sorry, Arthur Langeveld!) juist omdat de beelden even vaag moeten blijven als ze zijn.
Donderdagavond vertrok iedereen snel naar zijn kamer, om zich voor te bereiden op de volgende dag. Vrijdagmiddag zouden er namelijk ongeveer twintig Duitse uitgevers en een tiental journalisten komen, onder andere om ons boeken te horen pitchen die wij het vertalen waard vinden. Je zag de spanning stijgen. Het is tenslotte niet niks om dit in vijf minuten te doen. Maar na flink oefenen 's ochtends liepen de pitches als een trein. Opvallend was dat de voordrachten qua stijl heel verschillend waren – iedereen bracht er zijn persoonlijkheid in. Dat was ook de feedback van de uitgevers, die het buitengewoon waardeerden boeken eens anders – levendiger, emotioneler en ook persoonlijker – voorgesteld te krijgen dan gewoon. Het gevolg is ook dat mijn moet-ik-lezen-lijst weer aardig is aangevuld met onder anderen Minke Douwesz, Jonathan Robijn en Wytske Versteeg. Er lijkt al weer een aanpassing van de beginvraag nodig: How many translators does it take to switch on a light bulb? Na deze workshop zou ik zeggen: vier medewerkers van twee Letterenfondsen, één coördinatrice van een Literaturhaus en acht vertalers kunnen gezamenlijk al heel wat doen om vertalingen en vertalers in de schijnwerpers te zetten.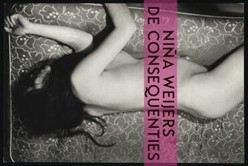 De zaterdag werd besteed aan de proloog en nog een paar pagina's uit Niña Weijers' De consequenties – een uitdagende roman over een jonge vrouw op zoek naar haar identiteit, modern en nonchalant geschreven, zodat we struikelden we over zinnen als deze:
De lucht werd grijs en vochtig, en ze leek niet zachter maar harder en leger.
Een van de typische valkuilen voor een vertaler Nederlands-Duits: lucht kan zowel Luft als ook Himmel betekenen. En wat betekent het hier? De lucht in de zin van de N2-O2-combinatie kan niet grijs en leeg zijn, de hemel daarentegen niet vochtig en hard. Dit bleef moeilijk totdat ons een licht opging: dat je alle twee de woorden in het Duits kunt invoegen en de bijvoeglijke naamwoorden omzetten. Daardoor krijg je: Der Himmel wurde grau und schien leerer, die Luft feucht und härter.
Bij het volgende voorbeeld hoeft de Nederlander niet aan de – uhm – consequenties te denken terwijl een Duitser dat wel doet. De hoofdpersoon wil haar bank wegdoen. Dat is niet zo vreemd, misschien. Komt wel vaker voor. Maar in het Duits moet je precies zeggen wat je van plan bent met die bank, zodat er geen misverstanden ontstaan. Een synoniemenwoordenboek brengt de verschillende betekenissen van 'wegdoen' in het Nederlands voor het voetlicht:
Wegdoen: afdanken, afschaffen, opruimen, verkopen, weggooien, afleggen, opbergen, wegleggen, wegsluiten, verwijderen, dumpen.
Ja, en kies nou maar. Uit de context blijkt dat de hoofdpersoon de bank – een lelijke 'imitatie-Versacebank' – verkoopt, aan een stel uit Amsterdam. Maar wil je dat dat in de tekst nu al duidelijk wordt? Nee. Allicht moet er een heel ander woord gekozen worden, bijvoorbeeld Trennung, een mooie vondst die tegelijkertijd ook benadrukt dat ze haar spullen verkoopt na een gesneuvelde relatie.
Kregen we een goede vertaling van de teksten van Hoske, Snijders en Weijers voor elkaar? Nee. Waarom niet? Omdat het bij zulke workshops om iets anders gaat. Het gaat erom te begrijpen dat er altijd alternatieven zijn. Het gaat erom nieuwe invalshoeken te leren kennen. En het gaat erom te herkennen dat anderen soms net zo wanhopig naar hun blikkerende cursor staren als jij. Als er dan vervolgens toevallig een ideale vertaling uit de bus rolt, is dat natuurlijk geweldig. Dus de inleidende vraag How many translators does it take to produce a good translation? is natuurlijk niet te beantwoorden, maar met acht enthousiaste vertalers, een discussieleidster en op z'n minst een moedertaalspreker kom je al een heel eind.