Crossing Border festivalkroniek
Jeske van der Velden

De mascotte van het Crossing Border Festival, dat elke herfst plaatsvindt in Den Haag, is een raaf. De raaf is de grootste zangvogel. Dit vertelt Elinor Archer me op de eerste druilerige festivalavond. Op het festivalprogramma staat hij dan ook zingend en dansend afgebeeld, tokkelend op een ukelele. Aan Elinor valt de niet onvermoeiende taak ten deel om drie dagen lang vijf jonge internationale auteurs en hun vertalers (we zijn in totaal maar liefst met zijn twaalven) te begeleiden. De auteurs en vertalers, onder wie ikzelf, zijn uitgenodigd om deel te nemen aan The Chronicles, een online festivalplatform voor jong talent op het gebied van schrijven en vertalen. De auteurs zullen drie dagen lang optreden als festivalchroniqueurs. Elke dag doen ze verslag van hun ervaringen en gedachten in een column, die meestal nog dezelfde dag wordt vertaald. Op zaterdag vindt er tot slot een interview plaats met de auteurs en hun vertalers. De auteurs komen uit alle windstreken. Ze zijn dit jaar heel jong en allemaal vrouw. Ik ontmoet de Mexicaanse Aura Xilonen, de Noorse Eline Lund Fjæren, de Vlaamse Lize Spit, de Rotterdamse Siham Amghar (overigens de enige dichter in ons gezelschap, wat de taak van haar Franse vertaalster, Mathilde Vuidar, in verband met de strakke deadlines tot een flinke uitdaging maakt), en ten slotte de Japans-Schotse Rowan Hisayo Buchanan.

In een van de door mij te vertalen columns van Rowan lees ik dat de raaf naast een muzikaal ook een literair dier is.1 Niet alleen schreef Poe zijn gelijknamige gedicht over de vogel, zijn mogelijke inspiratiebron was het huisdier van een andere grote schrijver, Charles Dickens. In gedachten voeg ik een voetnoot toe aan Rowans lijstje: Franz Kafka, die zijn achternaam ontleent aan een ander lid van de familie van de Corvidae, de kauw. Hoe dan ook is de vogel een passend symbool voor een festival dat een gecombineerd programma aanbiedt van literaire en muzikale optredens. Er wordt dan ook niet alleen geschreven, vertaald en geïnterviewd, maar ook geluisterd en gedanst.
Op donderdag beginnen we de ochtend met een vertaalworkshop, vervolgens lunch, dan weer vertalen en 's avonds uit eten met onze auteurs. De volgende dag begint met een schrijfworkshop van niemand minder dan DBC Pierre. Vervolgens eten, vertalen en op naar het festival, waar onze auteurs voorlezen en we meedeinen op de rauwe riffs en solo's van Marcus King en zijn gelijknamige band. Daarna door naar de afterparty, waar we opnieuw op DBC Pierre stuiten, die ondanks het schrijven van Vernon God Little en nog vier andere romans, zijn roerige levensstijl en het geven van workshops onvermoeibaar lijkt en tot in de kleine uurtjes op de dansvloer te vinden is. Zo raast het festival (net als Pierre) drie dagen lang door als een soort plaatselijke wervelwind, waarmee ik overigens niet doel op de barre weersomstandigheden in Den Haag, die getrouw zijn vastgelegd in meerdere columns en waarover verder maar beter niet teveel gezegd kan worden. Gelukkig vindt het festival binnen plaats, op allerlei locaties rond de Grote Markt, in het hart van de stad.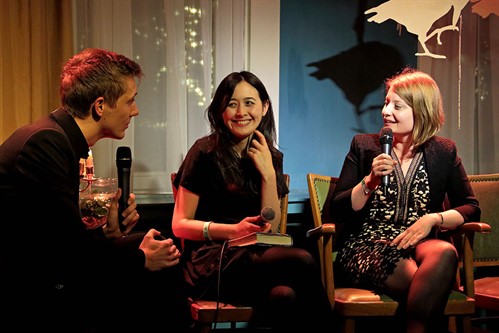 Interview met Rowan Hisayo Buchanan en Jeske van der Velden.
(Foto: Kees van der Velden)

De prille band die tijdens het festival ontstaat tussen de deelnemers maakt een initiatief als The Chronicles zo waardevol. We vertellen elkaar verhalen en vertalers en auteurs wisselen problemen en ervaringen uit, in sommige gevallen voor de eerste keer. Er worden zelfs een paar plannen gesmeed, al zijn we ons daar zelf misschien nog niet helemaal van bewust. Op de zondag na het festival ontbijten we voor het laatst samen. We zijn moe, maar nog niet allemaal klaar om afscheid te nemen, dus besluit een aantal van ons samen een bezoekje te brengen aan Scheveningen. We kijken rond in het uitgestorven Kurhaus en wandelen over de spekgladde pier. Daarna loop ik samen met Aura Xilonen en Maud Gonne, de Franse vertaalster van Lize Spit, nog een stukje over het strand. Te midden van het lawaai van de wind en de donkergrijze golven, de vlagen kibbelinglucht en het geluid van bungeejumpers die achter ons van de uitkijktoren storten, zijn we allemaal een beetje verdrietig dat het gezamenlijke deel van deze reis is afgelopen. Een aantal van de anderen gaat door naar Amsterdam, waar ze zullen deelnemen aan de Vertalersfabriek en de kans krijgen om elkaar nog beter te leren kennen en hun discussies voort te zetten. Maar de kans is klein dat we ooit nog allemaal samen zullen zijn. Aura bukt af en toe om kleine schelpjes op te rapen die ze in haar mouw stopt om thuis in Mexico aan haar moeder te geven. Dat we ondanks de kou niet terug willen, is een goed teken. Er liggen nieuwe schrijf- en vertaalprojecten in het verschiet. Een uur of wat later nemen we afscheid op het station.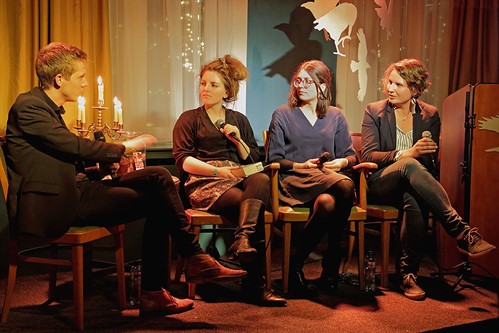 Interview met Lize Spit en haar vertalers. (Foto: Kees van der Velden)
Hoe hoopvol ik na mijn ervaringen op Crossing Border ook ben – als vertaler, als lezer – deze ervaringen zullen in mijn herinnering altijd enigszins overschaduwd worden door de uitslag, nog geen halve week later, van de Amerikaanse verkiezingen. Ik ben van ons selecte groepje niet de enige die zich nu zorgen maakt over de toekomst, leid ik af uit verschillende van de columns. Eline Lund Fjæren schreef in haar laatste festivalcolumn over de andere beoordelingscriteria die al dan niet bewust nog steeds worden toegepast op jonge vrouwelijke auteurs.2 Aura Xilonen schreef in haar column van vrijdag (vertaald door Myrthe van den Bogaert): 'Ik gruw van de haat van Trump als hij zegt: "Mexico stuurt alleen maar drugs en verkrachters naar Amerika." NEE! De wereld moet niet gemaakt zijn naar het evenbeeld van tirannen en, in plaats van het bouwen van muren, moeten we afstanden overbruggen om elkaar te begrijpen.'3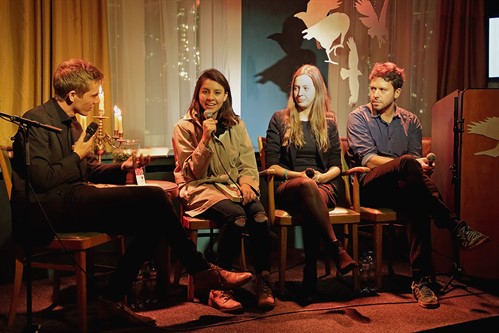 Interview met Aura Xilonen en haar vertalers. (Foto: Kees van der Velden)
In dit kader herinner ik me iets wat Milan Kundera ooit schreef: 'The novel is the imaginary paradise of individuals. It is the territory where no one possesses the truth, neither Anna nor Karenin, but where everyone has the right to be understood, both Anna and Karenin.'4 De roman dient in deze zin als tegengif voor een reductionistisch denken waartoe we allemaal in meer of mindere mate geneigd zijn, en waarvan nostalgie, zwart-wit voorstellingen van de wereld en benauwende ideologieën het gevaarlijkste resultaat vormen. Waar Kundera op doelt is geen literatuuropvatting die van de roman een politiek pamflet wil maken, maar eerder het idee dat de manier van denken die aan het romanschrijven ten grondslag ligt, en die het lezen ervan vereist, wezenlijk tegengesteld is aan dit reductionisme, aan het kneden van de waarheid tot het in onze veilige, vertrouwde ideologische bakvorm past, zodat we gerust kunnen zijn dat we de wereld om ons heen in ieder geval beheersen. Romans – in alle vormen en talen – gaan volgens Kundera niet over beheersing, maar over begrip. Het lijkt me een mooie gedachte dat de jonge auteurs en vertalers die dit jaar en de komende jaren meedoen aan The Chronicles hiervan actief deel uit maken: een doorlopende poging om te begrijpen. En het neerhalen van de echte en denkbeeldige muren die dit in de weg dreigen te staan.
Noten
1 Rowan Hisayo Buchanan. '
Crow Song.
'
The Chronicles
. 7 nov. 2016.
2 Eline Lund Fjæren.
Column
voor
The Chronicles
. Vertaald uit het Noors door Wouter de Jong. 7 nov. 2016.
3 Aura Xilonen. '
Kou en hoop.
' Vertaald uit het Spaans door Myrthe van den Bogaert.
The Chronicles.
4 nov. 2016.
4 Milan Kundera.
The Art of the Novel.
Vertaald uit het Frans door Linda Asher. New York: Grove Press, 1988, p. 159.
Jeske van der Velden (1987) studeerde Engelse Taal en Cultuur aan de Universiteit Utrecht en rondt momenteel de master Literair Vertalen af. Ze vertaalde eerder poëzie, proza en essays van onder anderen Ernest Hemingway, Lawrence Ferlinghetti, Eleonore Schönmaier en Matvei Yankelevich. Daarnaast is ze redacteur van tijdschrift Terras en ontving ze een door het Nederlands Letterenfonds gesubsidieerde Talentbeurs voor literaire vertalers.