Alledaags toerisme en geldzucht
Ton Naaijkens

Tot mijn mooiste vertaalervaringen van de afgelopen vakantieperiode behoren de verschillende borden die ik onderweg tegenkwam, al is het soms niet helemaal duidelijk of vertaling nou echt het probleem was. Wat te denken van 'hand made olive wood', ergens onderweg naar Paleokastritsa op Korfoe? Als je dat intikt in Google krijg je talloze afbeeldingen geleverd die bewijs afleggen van dit ambachtelijke hout, ook nog als van hand en made één woord wordt gemaakt. Meer richting zuiden op hetzelfde eiland zagen we een bord met daarop de mysterieuze woorden 'sea towel' – zo'n ding blijkt eveneens te bestaan als je Google-afbeeldingen mag geloven. De boodschap luidt: niet moeilijk doen, het gaat om badhanddoeken en die zien er zo en zo uit. En je wordt gedwongen het onderscheid tussen feiten en fictieve feiten maar even te vergeten. Het punt is natuurlijk dat in beide gevallen de taal – of liever: de bewoording – niet uitmaakt. Dat is voor een vertaler moeilijk te verkroppen. Maar als dan het derde bord, in de buurt van het alles verzoenende strand, wel degelijk een vreemd soort vertaling moet zijn, valt veel weg en kun je leven met een wereld waarin taal steeds minder telt: 'To secret beach'. Het is een bord dat je natuurlijk juist niet moet ophangen.

Maar is het niet waar dat het taalgebruik om ons heen steeds meer klinkt alsof er een primitieve vertaler aan het werk is? Na de aanslag in Londen van 4 juni – zeven slachtoffers, achtenveertig gewonden en drie terroristen gedood op London Bridge en bij Borough Market – sprak Theresa May volgens Teletekst van 'een vreselijk incident'. Als je die uitspraak op z'n Engels leest is er weinig op de premier aan te merken, maar in het Nederlands is zij meteen rijp voor een motie van wantrouwen of onmiddellijke afzetting. Ik leef samen met een vertaler en omdat ik het zelf ook ben kunnen we onze lol heel vaak op. Laatst kreeg ik nog een krantenartikel onder mijn neus gedrukt waarin de volgende regel met enige verontwaardiging omcirkeld was: 'We kunnen onze verbeelding gebruiken om alles wat niet wordt uitgedrukt in een salaris te beseffen en te onthouden.' Dat is inderdaad een zin om over na te denken. En misschien slaat hij wel op vertalers: de zin is gelicht uit een Volkskrant-column over de vraag of geld de belangrijkste indicator is van onze waarde als mens. Het artikel is van Alain de Botton, hoofdmeester van The School of Life, filosoof van de echte alledaagse problemen (geld, seks, eigenwaarde, toeristische verwarring etc.). Hij betoogt (denk ik) dat succes in het leven niet gebonden is aan de hoogte van je salaris. In ieder geval staan vertalers hoog op het lijstje idealisten die bij de keuze van hun vak niet gekeken hebben naar wat het oplevert.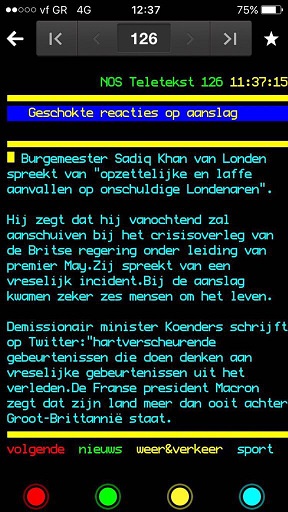 Vervolgens vraag ik bij mijn geliefde omcirkelaar na hoe hoog het probleem haar zit. Ik blijk het niet begrepen te hebben. Het ging om de vertaling van de zin en vooral om het gekke gebruik van 'beseffen'. Het werkwoord staat sowieso al onder druk door de epidemische toevoeging van wederkerige werkwoorden ('Ik besefte me…', sic), dus zorgvuldige inzet ervan is wel geboden. Wat zou daar in het Engels gestaan hebben? Daar staat: 'We can use our imaginations to remember and hold in mind all that is not quantified in a salary' (http://www.thebookoflife.org/you-are-not-what-you-earn/). Dat lijkt me een stuk duidelijker, in ieder geval ook plausibeler. Je komt dichter bij dat 'hold in mind' als je het wat vrijer te lijf gaat: beter tot je laten doordringen, wat langer stilstaan bij, meer rekening houden met, meer aandacht schenken aan. Woordenboeken helpen niet echt, zoals zo vaak, en 'beseffen' heeft dan wel een filosofisch aura, maar leidt hier naar vage zijpaden.
'However tempting it might be to settle the question of the value of humans in stark financial terms, the truth remains beautifully and redemptively more complicated,' staat er ook nog, door Leo Reijnen in de Volkskrant van 22 juli 2017 vertaald als: 'Hoe verleidelijk het ook is om de vraag naar de waarde van mensen in starre financiële termen te beantwoorden, de waarheid blijft van een wonderschone en bevrijdende complexiteit.' Mijn omcirkelaar denkt dat vraag beter vertaald kan worden met kwestie en beantwoorden beter met uit te drukken, en ze heeft gelijk. Dat maakt het er een stuk duidelijker op. Maar genoeg geneuzeld. Waar het om gaat is geld natuurlijk. Of misschien toch om de waarden die Alain de Botton onbetaalbaar noemt – dit uiteraard met het oog op mijn enigszins gekunstelde associatie met het salaris dat een gemiddelde vertaler in Nederland verdient. Want als er één ding is dat noch door het fameuze Zwartboek van 1980, noch door het Vertaalpleidooi van 2008 is bereikt, dan is het een gepaste betaling voor de vertaler. Ook het vertalen blijft immers van een wonderschone en bevrijdende complexiteit: geen bezigheid die zo veel alfa-academische en andere alfa-intellectuele vaardigheden behoeft als vertalen (vertalers horen van mij een hooglerarensalaris te verdienen). De Botton noemt na enig zoekwerk de volgende onbetaalbare eigenschappen: 'alle gradaties in intelligentie, zorg, toewijding, empathie en creativiteit die er zijn'. Niet dat ik uitga van een eensluidend psychologisch profiel van 'de vertaler', maar dat zijn toch echt wel de cruciale eigenschappen van dit type mens. Het zal toch niet dat hij het echt over vertalers heeft, in ieder geval over mensen die hun welslagen in het leven niet afmeten aan het salaris dat ze ontvangen?