De lange omweg
David Colmer


We shall not cease from exploration
And the end of all our exploring
Will be to arrive where we started
And know the place for the first time.
T.S. Eliot, Four Quartets, 'Little Gidding'
Vorig jaar ben ik tot mijn grote plezier gevraagd om een van de eerste Nederlandse boeken te vertalen die ik ooit las, Het behouden huis van Willem Frederik Hermans, dat destijds, zo'n 25 jaar geleden, een flinke indruk op mij gemaakt heeft. Dat het binnenkort voor het eerst als Engelstalig boek gaat verschijnen, bijna 65 jaar nadat het in het Nederlands verscheen, is bemoedigend voor iedereen die graag wil geloven dat kwaliteit nooit verloren gaat. Voor mij als vertaler was de opdracht een uitdaging, meer nog dan ik aanvankelijk besefte.
Een van de bekendste scènes in het boek is het gesprek tussen de hoofdfiguur en de Duitse kolonel die bij hem in zijn valse hoedanigheid als eigenaar van het huis ingekwartierd is:
'Buitengewone omstandigheden!' riep hij uit, 'ik erken geen buitengewone omstandigheden!' [...] 'Zolang ik in dienst ben,' zei hij, 'heb ik mij elke ochtend geschoren, precies om half zeven, met warm water. Ik ben vandaag precies veertig jaar in dienst. Geschoren met warm water, oorlog of geen oorlog! Dat is wat ik onder cultuur versta!'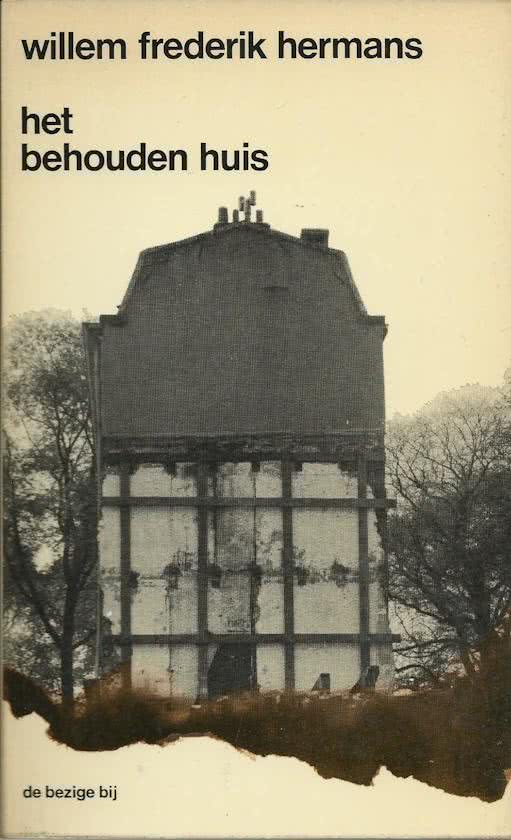 Voor iemand die bij 'cultuur' eerst en vooral aan muziek, kunst en literatuur denkt, is dit ontzettend grappig maar ook vreemd, Mozart en Beethoven gereduceerd tot het tijdig aanbrengen van scheerschuim, een bijna absurdistische karikatuur van een militaire denkwijze. Als je in het Engels het woord culture gebruikt, gaat het erg die kant op. Is dit dan misschien een geval van een valse vriend? Moet ik het zoeken bij civilization en civilized? Dat maakt het meteen een stuk aannemelijker en het maakt het ook gemakkelijk om je een voorstelling te maken van de Britse evenknie van deze Duitse officier: een David Niven-achtig type met een stiff upper lip en kostschoolmanieren: 'Someone who succumbs to extraordinary circumstances, well! he is simply no longer a civilized fellow!' Het vertaalprobleem getemd, de tekst gedomesticeerd. De lach is misschien een glimlach geworden, maar de vertaling is in veiliger waters geloodst.
Maar het citaat gaat verder:
'De cultuur geeft geen pardon! Cultuur is eenheid! Buitengewone omstandigheden bestaan alleen als uitvlucht! Wie aan buitengewone omstandigheden toegeeft, nàh! die is eenvoudig geen cultuurmens meer!'
En hier wordt het veel moeilijker om door te gaan met civilized en varianten daarop. De domesticering komt in conflict met de inhoud. Moet je er dan voor kiezen om verder af te buigen naar hoe die Britse officier over civilization zou praten, of alsnog proberen de vertaling dichter bij de denkwijze van de Duitser te houden? Culture dan toch?      
Misschien, maar de angst voor valse vrienden laat me niet los. Want ja, deze Nederlandse tekst is natuurlijk een weergave van een gesprek in het Duits, en we hebben hier dus niet met 'cultuur' te maken, maar met Kultur. En misschien begrijpt de Nederlandse partizaan die toehoort en 'cultuur' opschrijft, heel goed wat de Duitse kolonel met Kultur bedoelt, maar overleeft dat begrip de vertaalslag naar het Engels? Want het Duitse woord Kultur wordt in het Engels zodanig specifiek geacht dat het onvertaald overgenomen is, veelal om propagandistische redenen (bijvoorbeeld in de Hollywoodfilm uit 1918: Wolves of Kultur), maar ook omdat het een ander gebied lijkt af te bakenen dan het Engelse woord culture, zonder helemaal overeen te komen met civilization. Volgens de Oxford English Dictionary is kultur (dat zo is ingeburgerd dat het zijn hoofdletter kwijt is, en geen cursief verdient) 'civilization as conceived by the Germans; esp. used in a derogatory sense during the 1914–18 and 1939–45 wars, as involving notions of racial and cultural arrogance, militarism, and imperialism.' Als het Nederlandse woord 'cultuur' staat voor het Duitse Kultur, wat moet ik dan vertalen, 'cultuur' of Kultur?
Het lijkt mij sowieso dat Hermans af en toe iets bijzonders doet in het Nederlands als hij de gesprekken in het Duits opschrijft. Dat 'nàh' bijvoorbeeld, lijkt verdacht veel op een Duitse na en sommige van zijn 'jawels' roepen, in mijn oren tenminste, heel hard jawohl. Het is geen 'Allo 'Allo, maar toch is er een vrij directe lijn van het Nederlands naar het onderliggende Duits, wat maakt dat een Nederlandse lezer (zeker begin jaren vijftig) dat Duits er heel gemakkelijk in kan horen. Voor de meeste Engelstaligen is dat niet het geval. Moet ik ze dan een helpende hand bieden door 'cultuur' niet te verengelsen tot civilization maar te verduitsen tot kultur? Onze kolonel wordt dan minder een aristocratische Brit en meer een militaristische Pruis. Exit David Niven, enter, bijvoorbeeld, Jeroen Krabbé (Dutch/Deutsch, voor Hollywood is het één pot nat.). Dit klinkt misschien als een vrij radicale oplossing, maar is het dat wel? Immers, het Nederlands staat voor het Duits en het Duitse woord is in het Engels ingeburgerd. Vooral met een negatieve draai, dat wel, maar zo is het hier ook, want de kolonel hangt de verteller 'de keel uit'. Het kon hem 'niet schelen wat hij onder cultuur verstond'.
Met kultur wordt de passage in het Engels vreemder maar minder absurdistisch, dreigender maar minder komisch. Dat kan, maar is deze ingreep niet ook een geval van de lezer tegelijk over- en onderschatten? Overschatten, want hoeveel van hen zullen kultur hier goed begrijpen? Het is immers een woord waarvan de populariteit in het Engels een piek bereikte in 1917 (dank u, Ngrams). Onderschatten, want de lezer kan zelf bedenken dat het hier over Duitse cultuur gaat en dat die niet per se dezelfde is als andere culturen. Niet betuttelen! (Maar, maar... het blijft toch moeilijker voor een Engelse lezer vanwege de grotere afstand tot het Duits, dus is het niet eerder een methode om te voorkomen dat de tekst in vertaling ontoegankelijker wordt?)
Tijdens de tien of twaalf maanden van het begin van het vertalen tot het einde van de redactiebesprekingen bleef ik om dit punt heen draaien zonder te kunnen beslissen, of eerder, bleef ik mijn beslissing steeds veranderen, totdat ik de knoop door moest hakken en er 'culture' heb neergezet, de letterlijkste en simpelste vertaling. Ik had weer eens een lange omweg naar het beginpunt gemaakt. Dat is dus ook vertalen: eindeloos dubben. (Bij mij tenminste.) Godzijdank worden vertalingen uiteindelijk een keer gedrukt, anders hield het nooit op.
Maar goed, for better or worse, de kolonel kan nu eindelijk zijn scheergerei wegstoppen. In zijn toilettas bijvoorbeeld, of om met de Duitsers te spreken, in den Kulturbeutel. 
Naschrift
Een kleine twee maanden na het verschijnen van dit stuk, stuurde Tony Crawford, een oude vriend en de uitstekende Engelse vertaler van o.a. Navid Kermani, mij een link naar 'It's the Kultur, Stupid', een essay in The New York Review of Books waarin Timothy Garton Ash probeert de opkomst van xenofobisch rechts in Duitsland te duiden. Fascinerend en zorgelijk, maar Tony stuurde de link als commentaar op bovenstaande vertaalkwestie en vooral vanwege de titel en hoe Ash die uitlegt:
'It's the economy, stupid' simply does not apply to Germany's populist voters. Rather, it's the Kultur. (I say Kultur, rather than simply culture, because the German word implies both culture and ethno-cultural identity, and has traditionally been counterposed to liberal, cosmopolitan Zivilisation.)
Had ik onderschat hoezeer dit woord nog leeft in het Engels of, beangstigend idee, bevinden wij Engelstaligen ons aan de vooravond van een derde periode (na de twee wereldoorlogen) waarin het woord 'Kultur' wordt ingeburgerd? In ieder geval lijken mijn twijfels rond de woorden cultuur, Kultur en culture geen hersenspinsels geweest te zijn, al wordt mijn uiteindelijke keuze misschien ingehaald nog voordat het boek er is. Misschien een kleine correctie in de tweede druk?
Zie: http://www.nybooks.com/articles/2017/12/07/germany-alt-right-kultur-stupid/
David Colmer vertaalde naast Willem Frederik Hermans o.a. Gerbrand Bakker, Annie M.G. Schmidt, Martinus Nijhoff en Gummbah in het Engels. An Untouched House verscheen bij Archipelago in New York en Pushkin in Londen.