Uitslag van de Proust-quiz
Kiki Coumans

In de allerlaatste week van 2015 plaatsten we naar aanleiding van de nieuwe vertaling van Du côté de chez Swann van Marcel Proust een prijsvraag waarin deelnemers werd gevraagd de nieuwe vertaling van Martin de Haan en Rokus Hofstede te onderscheiden van die van Thérèse Cornips.
In totaal waren er twintig inzendingen, waarvan zes foutloze. Van de niet-foutloze inzendingen waren er tien – precies de helft dus – met één fout. Slechts één inzender had twee fouten. Twee inzenders maakten drie fouten. Uit de zes juiste inzendingen, afkomstig van Anneke Alderlieste, Dick Broer, Frans Budé, Jolanda van der Lee, Guy Rooryck en Youri Verrijt, werd de winnaar gekozen door een digitaal rad van fortuin, zie dit filmpje:
De juiste antwoorden waren: 1 B, 2 B, 3 A, 4 B, 5 A.
Vraag 1 en 4 waren het makkelijkst te beantwoorden, die had bijna iedereen goed (18 van de 20). De meeste fouten werden gemaakt in zin 2, waarschijnlijk omdat Hofhaan daar ook wat (typisch Franse) deelwoorden(1) en ingeklemde bijzinnen(2) heeft gebruikt. Want wie zou blind kunnen zeggen of dit een Hofhaan of Cornpis-zin is:
[...] en de gotiek leek me minder dood nu ik kon zien hoe ze, gescheiden van de steden (1) waar ik me haar tot dan toe had voorgesteld, in een bijzonder geval, op ruige rotsen,(2) was ontkiemd en ontloken in een spitse klokkentoren.
Toch zat er uitgerekend in deze zin een duidelijke aanwijzing in de verouderde spelwijze van 'klokketoren' – inmiddels veranderd in 'klokkentoren', iets wat de jury ook even was ontgaan en waar zij door een van de inzenders op werd gewezen.
Opvallend was dat een aantal inzenders schreef dat ze de 'meest moderne' of de 'minst ouderwetse' formuleringen aan Hofhaan hebben toegekend, en vervolgens toch met een, twee of drie zinnen de fout inging. Een ander stelde zelfs boudweg: 'Ik heb de beste/mooiste zin in mijn ogen gekozen en ben er blindelings vanuit gegaan dat het van Hofhaan moest zijn.' (Score: 3 fouten)
Niet veel mensen zijn getrapt in de instinker 'schobbejak' en 'om de drommel' in zin 3, die precies om de voornoemde reden in de opgaven was opgenomen. 'Het klinkt natuurlijk erg oubollig en Cornipiaans', zo meent een deelnemer.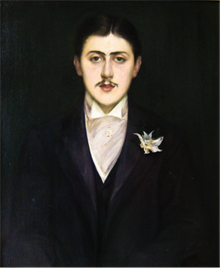 Jacques-Émile Blanche, Portret van Marcel Proust (1892)
Er waren meer uitgesproken inzenders. De vermoedelijk allerjongste deelnemer (23 jaar) schrijft over de zin 'Zij liet haar ogen vlug recht vooruit […] gaan': 'Ik kan me niet voorstellen dat Martin de Haan zo'n kromme Nederlandse zin schrijft.' Hij vervolgt: 'Om mijn vader in zich op te nemen' vind ik ook discutabel. Het A-fragment heeft nog teveel Frans in zich en is daarom denk ik van Cornips.' Deze scherpzinnige inzender had overigens alle fragmenten goed geraden.
In zin 5, ten slotte, stonden eveneens misleidend bedoelde woorden als 'deemoedig' en 'allerbeminnelijkst'. Men associeert deze algauw met de vertaling van Cornips. De winnares van de quiz wees er echter op dat het verschil tussen de vertalingen naar haar idee meer zit in de loop van de zin dan in het vocabulaire, iets dat misschien niet door iedereen is opgemerkt.
Grappig is overigens dat in dezelfde zin 5 het dicht bij elkaar staande 'geestdriftig' en 'geestig' door de ene deelnemer vol overtuiging wordt toegeschreven aan Hofhaan, terwijl een andere inzender het slordigheidje juist aan Cornips toeschrijft: 'Omdat ik 'geestdriftige' en 'geestige' zo vlak na elkaar niet zo geslaagd vind', verwacht ze dat deze niet van Hofhaan is. De andere deelnemer zegt juist: 'Ik denk niet dat zij "geestdriftig" en "geestig" zo dicht bij elkaar had durven te schrijven.' Terecht, zo blijkt.
Als dit laatste voorbeeld iets aangeeft, net als de quiz zelf, dan is het wel dat het 'voor de drommel' nog niet zo makkelijk is de oude en de nieuwe vertaling van elkaar te onderscheiden. Of dit aan de vertalers ligt of aan de lezer, moet iedereen voor zichzelf beslissen. Voor de vertalers zal het ongetwijfeld een uitgemaakte zaak zijn.
De winnares, Anneke Alderlieste – misschien niet toevallig zelf vertaalster uit het Frans, onder andere van het veelgeprezen De Thibaults van Roger Martin du Gard – ontvangt binnenkort een exemplaar van beide vertalingen, die door Athenaeum – Polak & Van Gennep en De Bezige Bij beschikbaar zijn gesteld. Wij willen de winnares van harte feliciteren!
Wilt u de zinnen uit de quiz nog eens teruglezen? Klik dan hier.