De Gentse stadsdichter en zijn tuig
Isabelle Bambust

Ik hou niet zo van een 'vakjescult'. Een dag voor gedichten… Gedichtendag. Een dag voor de viering van de Arbeid… Alsof werken geen continu feest mag zijn – het parool van Sneeuwwitje indachtig.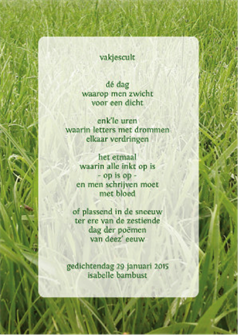 Op donderdag 29 januari 2015 – de dag der poëmen – zak ik af naar de Gentse bibliotheek. De Belgische Dichter des Vaderlands, Charles Ducal, zou er deelnemen aan de Paarse Zetellezing. Die middagformule bestaat erin dat Griet Pauwels een culturele persoonlijkheid interviewt. Beide actoren nemen dan plaats in twee paarse zetels. Het zijn replica's van de zachte stoelen die eens toebehoorden aan Nobelprijswinnaar Maurice Maeterlinck en die één van de salons van zijn 'château niçois' stoffeerden.
Wachtend in de inkomsthal van de bibliotheek snoep ik van een poëzieweektentoonstelling. Het eerste stadsgedicht van de Gentse stadsdichter David Troch staat te kijk met tal van vertalingen verwezenlijkt door verschillende stadsbewoners met een niet-Gentse achtergrond. Dit gedicht staat met alle vertalingen ook in een boekje van tachtig bladzijden (ISBN-9789080701359), dat vrij op het web te ontdekken is.
Ik dwing mij eerst alleen in de Nederlandstalige versie te duiken:
gent en ik
op schoolreis leerde ik u kennen als tuig
dat allemans armen en benen uit wou rekken.
terstond stopte ik met groeien. zo perplex was ik.
maar ook ik speelde de verbeelding van het kind
kwijt en keerde koen en onverschrokken naar u terug.
ik deelde dorst en honger, botste aan een schoolpoort
tegen een geweldige liefde op. zo wist u mij te strikken.
toch durf ik niet te stellen dat ik mijn laatste woorden
lukraak bij u neerleg. ik ben vaak van u weg.
Alleen met kennis van het oorspronkelijke gedicht durf ik naar de versie in mijn geliefde tweede taal, het Frans, te kijken. Bij het Gentse tuig dat in de context van een schoolreis allemans armen en benen wou uitrekken, denk ik onmiddellijk aan de foltertuigen van het Gentse Gravensteen. Wat onthutst lees ik in de geafficheerde Franse vertaling  – die in het boekje op bladzijde 12 staat – 'je t'ai connue en voyage scolaire débordant de sève voulant étirer jambes en bras de nous tous.' Daarmee wordt Gent een stad 'boordevol energie' en is er geen enkel spoor van het woord 'tuig'. Dit gegeven prikkelt mij en ik neem daarom ook andere vertalingen onder de loep.
Het is opmerkelijk dat het gedicht 'gent en ik' slechts in negen van de vierentwintig Europese officiële talen is vertaald: Frans, Duits, Engels, Spaans, Pools, Tsjechisch, Zweeds, Portugees en Hongaars. Er zijn ook heel wat vertalingen naar dialecten zoals het Zottegems, een enkele vertaling naar het Esperanto en een vertaling 'op zijn kleuters'. Verder komen Turks, Perzisch, Russisch, Chinees, Fries, Hindi, Arabisch en Georgisch aan bod.
In sommige versies is 'tuig' vertaald als een voorwerp, bijvoorbeeld 'comme un instrument' in het Frans, 'como instrumento' in het Portugees, 'as a tool' of 'like a tool' in het Engels, 'als ding' of 'wie ein zeug' in het Duits, en 'gelijk e stik aloam' ('gelijk een stuk alaam') in het Zottegems. In een andere Engelstalige vertaling lees ik zelfs 'as torture rig' ('als marteltuig'). Andere versies keren zich naar het 'tuig' als persoon: bijvoorbeeld 'una persona traviesa' ('een ondeugend persoon') in het Spaans, 'kanajlo' in het Esperanto, 'canaille' in het Frans, 'canalha' in het Portugees – vergelijk de drie laatstgenoemde versies met het Nederlandse 'kanalje', 'racaille' in het Frans (dit is een synoniem van 'canaille') en 'een stoute jongen' op zijn kleuters. Een Spaanse versie schetst 'tuig' eerder als een negatief begrip en heeft het over 'como un malvado' ('als een kwaad'). Een vertaling in het Duits verwoordt het helse, duivelse tuig door middel van het begrip 'teufelszeug' wat zowel op een voorwerp als op een persoon kan duiden.
Persoonlijk blijf ik tekenen voor de foltertuiginterpretatie. Toegegeven, de afwezigheid van een lidwoord of van een meervoud werkt in mijn nadeel. De foltertuiginterpretatie zou overtuigender werken met 'op schoolreis leerde ik u kennen als een tuig dat enz.' of 'op schoolreis leerde ik u kennen als tuigen die allemans armen en benen uit wouden rekken.' Doch, het gebruik van het werkwoord 'uitrekken' lijkt dan weer wel in het voordeel van mijn zienswijze te zijn, en ook de verwijzing naar de verbeelding van het kind in het eerste vers van de tweede strofe.
Ik weet niet of de vertalers de mogelijkheid hebben gehad de Gentse stadsdichter over de inhoud van het gedicht te interpelleren, en of ze die eventuele kans hebben benut. Het gekke is dat bladzijde 80 van het boekje (alleen maar) vermeldt dat de stadsdichter en Circa – het cultuurcentrum van de stad Gent dat instond voor de realisatie van het bundeltje – niet verantwoordelijk zijn voor eventuele taal- en spelfouten in de vertalingen. Over mogelijke inhoudelijk manke vertalingen doet men er het zwijgen toe…   
Isabelle Bambust (Isabelle.Bambust[at]UGent.be) verricht sinds 2012 onderzoek aan de Universiteit Gent rond de taalbescherming inzake de grensoverschrijdende mededeling van gerechtelijke documenten.