Speciale tranen
In memoriam Ronald Jonkers (1948–2019)
Ton Naaijkens

Ze stonden bij tal van mensen prominent in de boekenkast – eind jaren zeventig Zen en de kunst van het motoronderhoud, midden jaren tachtig Gödel, Escher, Bach en in dezelfde tijd Het parfum, begin jaren negentig De Quincunx, begin eenentwintigste eeuw Een korte geschiedenis van de tijd – stuk voor stuk bestsellers, telkens herdrukt, tot op de dag van vandaag. De auteurs zijn misschien minder bekend dan hun titels, nog onbekender zal vermoedelijk de vertaler zijn die in ons taalgebied verantwoordelijk was voor het Nederlands. De auteurs noem ik niet, de vertaler wel, want hij is afgelopen maand overleden: Ronald Jonkers (1948–2019). Ik las het op Facebook, ik kende hem niet, het was bij mijn weten ook niet iemand die zich in het vertaalwereldje bewoog. Degene die melding van zijn overlijden maakte (Ivo Kievenaar) beweert dat Jonkers veel vrienden had en ook veel vijanden, en hij stelde terecht dat Jonkers' overlijden door geen krant of website is vermeld. Op 31 juli bracht Boekblad het nieuws wel naar buiten – hij was op 12 juli overleden in een ziekenhuis in Reutlingen waar hij woonde met zijn levensgezellin, de schrijfster Sybille Mulot. Ooit was hij uit Nederland vertrokken en richting Duitsland gegaan. Uit het Duits vertaalde hij behalve Het parfum ook een ingewikkeld boek als Morbus Kitahara van Christoph Ransmayr, een dystopische alternatieve wereldgeschiedenis die in het Engels The Dog King heet en al evenzeer geldt als een cultboek (net als Zen en Gödel). Ook voor moeilijke Engelse teksten deinsde hij niet terug, ik noem graag Thomas Pynchon van wie hij in 1978 De veiling van nr. 49 presenteerde, een vertaling die hij in 1993 herzag.
Het is lastig schrijven over iemand die je niet gekend hebt, laat staan over een vertaler, die per definitie op de achtergrond werkt. Ik ben zo vrij om naar zijn Facebook-account te kijken, de laatste melding is van 27 juni. Die is uiterst kort en luidt: 'Artemisia Heuschnupfen', bijvoetallergie. Mijn indruk als ik scrol: een bijzondere man met bonte interesses en veel taalgevoel, en iemand die kon schrijven. Op 21 juni 2017 postte hij dit: 'Mijn moeder kon nogal meisjesachtig dwepen met toneelspeelsters, filmsterren of vrouwen uit haar kennissenkring. Dat dwepen ging gepaard met een haast mystieke lichaamstaal van trance en vervoering, diep zuchten, ogen ten hemel opslaan en het zwiemelig slaken van woorden die de ernst van haar onvoorwaardelijke overgave kracht moesten bijzetten. Eén van die woorden was "moorddadig". Je hoort dat niet meer zo vaak gebruiken in de betekenis van "geweldig", maar vanochtend zeg ik het toch, hier aan tafel, met dit kopje koffie!' Een paar dagen ervoor thematiseert hij ook het vertalen: 'Bij het toetje na het eten verzinnen Sib en ik graag grapjes. Toneelstukjes met bijvoorbeeld dr. Oetker en dr. Scholl. Vanavond liepen de beide doctores op straat, waar ze mevrouw Berlitz tegenkwamen, die van het taleninstituut. Na het uitwisselen van de plichtplegingen klonk het: goed dat we u zien, mevrouw, we schrijven juist de teksten voor op de dozen. Hoe heet Hühnerauge in het Nederlands? En hoe Schneebesen in het Frans? En zo vullen we al snel een flinke poos met het bedenken van malle woorden waar de ander een vertaling voor mag noemen. Leuker dan scrabble, en alles is toegestaan.' Ik wacht me ervoor verder te kijken, en misschien is dit postume citeren al not done, ook al is alles openbaar tegenwoordig. Wat blijft is de indruk dat Ronald Jonkers de meest geschikte figuur geweest is om de boeken over de kunst van het motoronderhoud en de banden tussen een tekenaar, een wiskundige en een componist bloot te leggen.
Hoe betuig je eer aan wie je niet gekend hebt? Tot wiens vrienden of vijanden je niet hebt behoord? Over wie nagenoeg niets bekend is? Door zijn werk voor het voetlicht te halen en het te bekijken. Ik trek dus een vertaling uit de kast en kijk wat hij deed. Mijn oog valt op Pynchon, auteur van encyclopedische romans, 'notoriously reclusive'. The Crying of Lot 49 is voor Pynchons doen een korte roman uit 1966 – een raadselachtig boek dat de faam van de auteur (*1937) heeft vergroot en tot de canon en bijbehorende universitaire leeslijsten is doorgedrongen. Oedipa Maas heet de hoofdpersoon en zij wordt executeur van het testament van een ex-vriend; langzaamaan ontdekt ze een schaduwwereld van Amerikanen die buiten het 'officiële' leven om in contact met elkaar staan – een intrigerend idee, voedsel voor allerlei paranoia, bron voor tal van bizarre situaties. Jonkers kwam in 1996 met een 'volledig herziene Nederlandse vertaling' (Bert Bakker), maar als je goed kijkt valt dat volledig misschien wel mee. Toch is het subtiele schaven, de kern van alle vertalen, goed hoorbaar. De brille van de eerste versie uit de beginjaren van zijn vertaalloopbaan (Agathon, 1978) is behouden gebleven – hier is een zeer taalvaardig iemand aan het woord, iemand die op kan tegen de lange en ingewikkelde constructies van de Amerikaanse cultschrijver. Ik neem wat zinnen uit het eerste hoofdstuk als Oedipa zich herinnert ooit in een museum in Mexico-Stad voor een drieluik te hebben gestaan van Remedios Varo, Bordando el Manto Terrestre, een curieus schilderij van vrouwen die een kleed borduren dat de wereld moet gaan bedekken:
Oedipa had, pervers, voor het schilderij staan huilen. Niemand had het gemerkt; ze had een grote zonnebril op met donkergroene komvormige glazen. Een ogenblik lang had ze zich afgevraagd of de rand rond haar oogkassen strak genoeg was om gewoon door te huilen en de hele binnenkant van het glas met tranen op te vullen die nooit zouden opdrogen. Zo zou ze de droefheid van dat ogenblik altijd bij zich kunnen dragen en ze zou de wereld vertekend zien door die tranen, die speciale tranen, alsof tot nog toe onbekende tekens, van huilbui tot huilbui, op belangrijke wijze varieerden. (1978, p. 17)
Vijftien jaar later:
Oedipa had, idioot, voor het schilderij staan huilen. Geen mens had het gemerkt want ze droeg een grote zonnebril met donkergroene bolle glazen. Een ogenblik lang had ze zich afgevraagd of de rand rond haar oogkassen zo goed afgesloten was dat ze gewoon door kon huilen en de hele binnenkant achter het glas met tranen kon opvullen die nooit zouden drogen. Op die manier zou ze de droefenis van dat ogenblik altijd met zich mee kunnen dragen en zou ze de wereld door de tranen heen vertekend zien, door die bijzondere tranen heen, alsof de brekingsindex op een nog onbekende wijze van huilbui tot huilbui verschilde. (1993, p. 14-15)
Ik moet me corrigeren: dat lijkt bij nader inzien toch stukken beter – het eind is plausibeler, het beeld van de zich in de bril ophopende tranen waardoor de wereld anders wordt waargenomen is echter doorzien, een paar woorden (idioot, bol, drogen, bijzonder) vallen heel goed op hun plaats en voorkomen de extra dosis verwarring die van de eerste versie uitgaat. Wat kleine zaken zijn misschien minder verklaarbaar ('onbekend' in plaats van 'belangrijk', waarom?). Ik kijk naar het Engels dat de jonge vertaler in de jaren zeventig moet hebben verleid tot zijn keuzes:
Oedipa, perverse, had stood in front of the painting and cried. No one had noticed: she wore dark green bubble shades. For a moment she'd wondered if the seal around her sockets were tight enough to allow the tears simply to go on and fill up the entire lens space and never dry. She could carry the sadness of the moment with her that way forever, see the world refracted through those tears, those specific tears, as if indices as yet unfound varied in important ways from cry to cry.
Het Engels is korter en compacter en verklaart keuzes in de eerste versie; de tweede versie lijkt eerder gebaseerd op de eerste vertaling dan op de brontekst. Maar er gebeurt veel, stof voor veel discussie en een goede les voor wie Jonkers wil navolgen. Op een nog onbekende wijze verschillen vertalingen van elkaar, niet zozeer van huilbui tot huilbui, maar wel door de bubble shades die je op je neus hebt staan.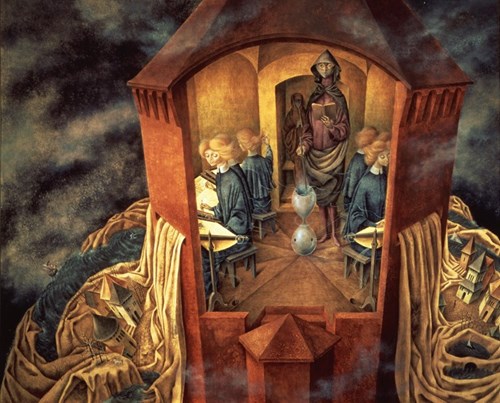 Remedios Varo, Bordando el Manto Terrestre