Ben ik een blauwbilgorgel?
Jan Gielkens

Het toeval deed een boekje op mijn bureau belanden dat eigenlijk helemaal niets bij mij te zoeken heeft, maar dat mij wel weer aan het denken zette over de vergankelijkheid van vertalers en vertalingen. Het uitgaafje is uit 1970, het is uitgegeven door Bruna en het heet Goeie God. Het is volgens de titelpagina geschreven en getekend door de Britse cartoonist Mel Calman (1931-1994), maar op het voorplat staat nog een auteur: Cees Buddingh'. Buddingh' (1918-1985), nu vooral nog bekend vanwege zijn nonsensgedicht 'De blauwbilgorgel', was dus blijkbaar in 1970 zo bekend als schrijver dat zijn naam licht misleidend op de voorkant van een boek de winkelende lezer moest verleiden tot het kopen van een niemendalletje van 64 pagina's met ook al in 1970 – ik was er toen ook al – flauwe cartoons over de god van de christenen. Buddingh' vertaalde het een en ander, van Leslie Charteris tot William Shakespeare, en uiteraard deed hij dat om geld te verdienen, maar dit Goeie God was wel een geldklus van het zuiverste water. Het is te hopen dat hij voor de nog geen 500 woorden van het boekje meer heeft gekregen dan het toen geldende vertaaltarief, want zelfs met het huidige zou het honorarium maar een euro of 30 zijn.
Een paar dagen later belandde er, er is nog steeds sprake van toeval, een oude recensie van Ode van de zee op mijn bureau, de vertaling door August Willemsen van Ode Marítima van Álvaro de Campos, het heteroniem van Fernando Pessoa. In die recensie staat deze zin: 'Een in ieder opzicht onberispelijke uitgave: tweetalig, zodat de belangstellende lezer ook nog wat Portugees kan opsteken.' Aan het woord is, hoewel dat voor het verdere verhaal onbelangrijk is, Ivan Sitniakowsky, en wel in De Telegraaf van 11 december 1981. Ha, dacht ik, daar heb je weer zo iemand die vindt dat uitgaven van vertaalde poëzie altijd tweetalig moeten zijn. En waarom? Opdat mensen er een beetje Portugees van kunnen opsteken. Eerst de vertaling van Willemsen de hemel in prijzen en dan niet boos worden dat de helft van het boek wordt ingenomen door een tekst die je toch niet kunt lezen.
Ik heb hem nooit gesnapt, die wens om de originelen naast de vertalingen te zien, een wens die overigens – volgens mij – vooral voorkomt bij Engelse, Franse en Duitse originelen. Want die talen beheersen we immers allemaal, nietwaar, en dan kunnen we kijken of de vertaler het wel goed gedaan heeft. Als je een pleitbezorger van tweetalige uitgaven vraagt of ook vertalingen uit het Vietnamees of het Sloveens tweetalig moeten zijn, wordt de blik al waziger. En wat te denken van romans? Zou het vergelijken daar ook niet erg interessant zijn? Kunnen we niet ook wat Portugees opsteken van een tweetalige uitgave van Als een brandend huis van António Lobo Antunes? Bijna 350 pagina's talencursus tegenover die paar dichtregels van Pessoa. Wie om een tweetalige uitgave vraagt vindt zichzelf, denk ik dan, belangrijker dan de dichter en de vertaler.
En toch ging ik twijfelen aan mijn opvatting over tweetalige poëzie-uitgaven, want door nog steeds hetzelfde toeval – ik had een serendipity-dagje – vond ik kort na de recensie van Sitniakowsky een aflevering van het literaire tijdschrift Raam, dat van 1963 tot 1975 verscheen, 106 afleveringen lang. Ik vond aflevering 59/60 uit november/december 1969, met daarin vier gedichten van John Lennon, vertaald door C. Buddingh'.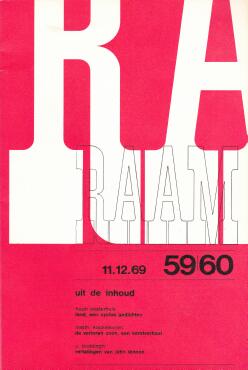 Een van de vertalingen begint zo: 'Ik heb een kleine knarie / Me beste kameraad / Kga dikkels mettem wandle / Al wortook nog zo laat // Ik noem me knarie Sjeffie / Zo heette mopa ok / Ik noemmum zo naar mopa / Dawwasso zije sok.' En dan gaat het nog tien strofen door. Als dit nu geen tweetalige publicatie was geweest, had ik op het eind van die twaalf strofen kunnen denken: goh, die Buddingh' vertaalt een verwante dichter. Maar dat is niet het geval, want de tekst van Lennon begint zo: 'I have a little budgie / He is my very pal / I take him walks in Britain / I hope I always shall. // I call my budgie Jeffrey / My grandads name's the same / I call him after grandad / Who had a feathered brain.' En zo gaat het tot het eind door: het is een vreemd en niet waargebeurd - zullen we maar zeggen - verhaal, maar in nagenoeg correct en gewoon Engels opgeschreven. Het Nederlands is dus verbuddinghd.
Van de andere drie gedichten is er in mijn ogen maar een die van zichzelf wat dichter bij Buddingh' komt. Het begint zo: 'Small wonder on this churly morn / I crivy like a black / To think wot I should be farlorn / Through knorb this packymack'. Als consument van 'gewoon' Engels kan ik de vreemdheid van deze variant niet echt overzien, maar als lezer van de versie van Buddingh' vraag ik me toch meteen af of ik daarmee wel geholpen ben: 'Its wonder daddik nikkersnik / Op deze nurkse och / Een kippig vel allenerik / In sloer en modderkroch'. Ik ben dus voor de afwisseling een keer blij dat ik ook het origineel meteen bij de hand heb - al is het dan om de bevestiging te krijgen dat ik de oplossingen van Buddingh' niet zo geslaagd vind.
Bij de publicatie in Raam staat deze wat al te jofel geformuleerde opmerking: 'De verzen van John Lennon (links) en de "vertalingen" van Cees Buddingh' (rechts) op de bladzijden 28 t/m 39 zijn ontleend aan het bundeltje John vrijzinnig vernederlandst door Cees Buddingh', dat eerlang als Zwart Beertje bij Bruna verschijnen zal, naar vertaler en uitgever hopen zelfs spoedig.' Vrijzinnig vernederlandsen noemt Buddingh' dit dus, en dat vind ik nou weer mooi gevonden. Want eigenlijk is het toch zo dat een vertaler de vrijheid mag nemen die hij of zij vindt dat hij of zij mag nemen. De hoop van vertaler en uitgever was overigens vergeefs, want het aangekondigde boekje zou nooit verschijnen. Misschien waren de rechten te duur, of misschien heeft John Lennon wel de publicatie verhinderd nadat hij Raam onder ogen had gekregen. Misschien heeft hij toen wel uitgeroepen: 'ik ben geen blauwbilgorgel!'