Decemberpudding en oliebollen
Bert de Waart

De Engelse vertaling van De avonden heeft in de pers veel aandacht gekregen ('Eindelijk!'), in zowel de Britse pers als hier te lande. Terecht en te verwachten. Het boek zou moeilijk te vertalen zijn, in het Engels dan, onder andere vanwege de ironische quasi-formele toon waarop de hoofdpersoon Frits van Egters praat, en de quasi-kanseltaal waarin hij denkt. Hoe is Sam Garrett daarmee omgegaan? Heel goed, is mijn eerste indruk:
'Vader, hoe smaakt het, als ik vragen mag?' vroeg hij op een deftige toon. (15)
'Father, does it meet your approval at all, if I may be so bold?' he asked with a mock affectation. (23)
'Ja', dacht Frits, 'die man zegt: Appel-bessen, wijn. Het is trouwens Bessen-appel. O, zie ons. Grijp in.' (180)
'Yes,' Frits thought, 'the man says: Apple-berry. Besides, it's berry-apple. Oh look upon us. Stretch forth thy hand.' (292)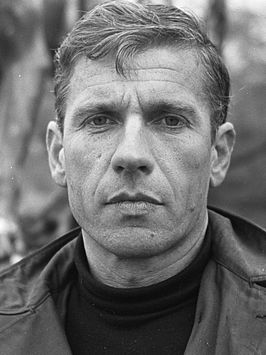 Gerard Reve in 1969
Het boek bevat veel directe rede, en met name het taalgebruik van Frits' moeder en van andere volwassenen is behoorlijk realistisch weergegeven: dat is alledaagse spreektaal, en ik heb de indruk dat de vertaling op dit punt wat formeler van toon is dan het Nederlands:
'Moet je nog brood met kaas?' vroeg zijn moeder. (16)
'Would you like some bread and cheese?' his mother asked. (187)
Een man met grijs haar stond aan de trap. 'O, Frits', zei hij. 'We zijn alleen thuis.' (121)
A grey-haired man was standing on top of the stairs. 'Oh, Frits,' the man said. 'You and I are the only ones here, I'm afraid.' (194)
Misschien is dit een aanpassing aan de doelcultuur. Daar zijn meer voorbeelden van. Garrett normaliseert hier en daar en hij expliciteert vrij vaak. Zo benadrukt a mock affectation uit het eerste voorbeeld dat die deftige toon gespeeld is, en maakt the man said in de laatste zin duidelijker wie hier praat dan 'zei hij'. Ook komt Garrett zijn lezers tegemoet door uitleg van van alles uit de Nederlandse cultuur in ruime zin. Een voorbeeld. Als Frits na kantoortijd zijn fiets pakt blijkt de voorband lek:
'Ik weet, hoe het verder gaat', dacht hij. Ik zet hem in het hok en doe er niets aan. Ik kom er niet toe. [1] Voorlopig te voet.' … [3] Er hing een fijne mist. … Het voorwiel [4] bij de zijstraten behoedzaam optillend, liep hij voort over de trottoirs. (136)
'I know how it will go,' he thought. 'I'll put it in the storage cupboard and forget about it. I won't get around to do it. [1] On foot it is [2] then, for the time being.' … [3] The air was filled with a fine mist. … He followed the pavements, lifting the front wheel carefully [4] at each kerb. (218)
De vertaling maakt een onvolledige zin volledig [1], en maakt expliciet dat deze zin het gevolg is van de vorige [2]. Zin [3] is in het Engels literairder, en [4] legt uit waarom je een lekke voorband bij een zijstraat moet optillen: niet om die zijstraat, maar om de stoeprand (kerb) die je daar moet oversteken. Nog een voorbeeld van het laatste. Frits' moeder geeft aan zijn broer een pan warm eten mee:
'Als je het nu in kranten in deze tas zet' … 'dan staat het rechtop en wordt het niet koud.' (14)
'If [1] I wrap it all in some newspaper and put it in here' … '[2] it won't spill and it won't get cold.' (22)
De vertaling legt uit hoe dat moet met die kranten [1] en waarom die pan rechtop moet blijven staan [2].
Natuurlijk zijn deze paar voorbeelden niet toereikend om de vertaling als geheel te karakteriseren. Daarvoor zijn meer tijd en een uitvoerigere bestudering nodig. Voor nu iets anders.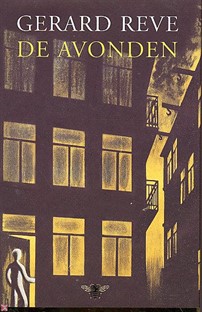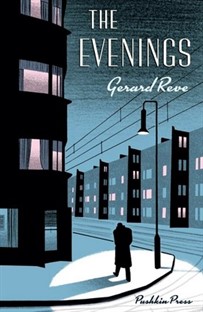 De avonden speelt zich af gedurende de laatste tien dagen van 1946; we beleven deze maand dus het veertiende lustrum van deze sleutelperiode in de Nederlandse literatuur. Een mooie aanleiding voor nog twee krenten uit de pap, die laten zien hoe subtiel de vertaler te werk is gegaan.
Pudding
Op zaterdag 28 december heeft Frits van Egters thuis een paar uur liggen slapen en maakt vervolgens wat te eten voor zichzelf: koude, gestolde erwtensoep zo uit de pan, gebakken uien op vier boterhammen en vla van een pakje puddingpoeder en melk. Minder dan een uur later, bij Joosje en Jaap Elderer, biedt de eerste hem 'wat pudding', en de tweede 'een lekker stukje pudding' aan.
Pudding. Nederlandse pudding bestaat in allerlei smaken en kleuren, maar de oervariant is geel en vanille, behoudt zijn vorm op een bordje en trilt mee als je ertegen stoot. De vloeibare vorm die je uit een kommetje eet heet vla. Engelse pudding is taartachtig: cake met een laag melkpap en vruchtengelei, of iets flan-achtigs met veel suiker en eieren, maar die wordt in de oven gebakken (en black pudding is dan weer bloedworst). Wat wij 'pudding' noemen heet daar custard, en wat wij 'vla' noemen ook. Custard powder is een hulpmiddel om custard te maken. Maar dit betreft alleen het Verenigd Koninkrijk: in de rest van het Gemenebest zijn de toetjes en de namen anders, en in de Verenigde Staten nog weer anders. Wat gebeurt er met de pudding in deze vertaling?
Van een halve fles melk maakte hij met een pakje puddingpoeder een vla …
'Moet je wat pudding?' vroeg Joosje.
'Een lekker stukje pudding, Fritsje,' zei Jaap. (99–100)
With half a bottle of milk and a packet of powder he made a custard …
'Would you like some pudding?' Joosje asked.
'A nice fresh bowl of pudding, Frits my boy,' said Jaap. (158–160) ('Fritsje' > Frits my boy: fraai!) 
Soms lokt het ene woord het andere uit, ook bij het vertalen. 'Vla' moest custard worden, en om dat woord niet nodeloos te herhalen werd 'puddingpoeder' kortweg powder. De pudding bij de Elderers is geen vla, dus toch maar vertalen met pudding, maar een Britse 'pudding' is het ook niet. Vandaar, denk ik, dat het in de vertaling in een schaaltje, een bowl zit, en vandaar fresh.
Pudding kan trouwens ook in het algemeen 'toetje' zijn, en zo gebruikt Garrett het ook wel. Het standaardtoetje bij Frits thuis is pap, bijvoorbeeld op dinsdag 24 december:
Na de pap zei Frits … (40)
Once they had eaten their pudding, Frits said … (64)
Maar pudding for dessert is blijkbaar net zo raar als 'toetje toe'.
Elke avond is er pap na. … Je moet in een plat bord pap, laten we zeggen, drie schepjes nemen. (75)
Porridge for dessert every evening. …For a level bowl of porridge you need, say, three spoons full. (120)
Hier is 'pap' dus porridge, en een plat bord een level bowl. Maar op 27 december is de pap griesmeelpap, en die nadere bepaling heft de 'no-pudding-for-dessert'-restrictie op: semolina pudding for dessert kan wel, en dat mag ook gewoon op een plate (86/137).
Oliebollen
Wat Sinterklaas is voor het begin van december is de oliebol voor het eind: het sjibbolet van de Nederlandse cultuur. En tot mijn aanvankelijke verbazing, en tot die van Diederik Huffels in de NRC van 24 oktober, vertaalt Garrett 'oliebol' met oliebol, en 'oliebollen' met oliebollen, beide zonder cursivering in zijn Engelse tekst, en minder vaak met pastry/pastries. Pas later zag ik hoe subtiel hij dit lesje in de Nederlandse oudejaarsavondcultuur in zijn vertaling heeft ingeweven. We zijn in het tiende hoofdstuk, op 31 december. Frits komt rond acht uur 's avonds thuis.
Er hing een braadlucht. Hij hoorde in de keuken het spetteren van vet in een pan. … 'Maak je oliebollen?' vroeg hij. 'Appelbollen,' antwoordde ze. … Op de keukentafel stonden een diep bord met stukken appel en een schaal met beslag. … Ze nam van het bord een handvol stukken, dompelde ze in het beslag en wierp ze een voor een in de zwarte vleespan. (178)
The house was filled with the smell of frying. From the kitchen he could hear the hissing of fat in a pan. … 'Are you making oliebollen?' he asked. 'Appel beignets,' she replied. … On the kitchen table was a deep bowl with chunks of apple and a plate of batter. … She took a handful of chunks from the bowl, dipped them in batter and tossed them one by one into the black stewing pan. (288–289)
De Engelse lezer krijgt onverhoeds die oliebollen voor zijn kiezen, maar direct daarna ook het recept, waardoor hij allicht al begrijpt hoe die mysterieuze lekkernij eruitziet en smaakt; de beignets en de stewing pan verduidelijken ook nog wat. Frits legt intussen zijn moeder uit hoe het eigenlijk moet: niet met willekeurige brokken appel, maar met kransjes. 'Dan krijg je gebak met een leuk uiterlijk' – en Garretts vertaling is iets accurater: pastries that look nice too.
Frits' moeder voelt niets voor het welgemeende advies van haar zoon. Ze zegt ja, maar ze doet nee: 
'Ja,' zei ze, met een vork zes gare bollen een voor een op een platte schaal wippend. ... 'Best,' zei Frits. 'Je wilt bollen maken met stukjes appel er doorheen …' Hij nam een van de gare bollen van de schaal, … 'Godverdomme, heet,' zei hij, blies op de bol, zwaaide hem heen en weer, en liet hem op de grond vallen. (179)
'Yes,' she said, using a fork to flip six of the finished beignets onto a plate. … 'Fine by me,' Frits said. 'You want to make balls of batter with bits of apple in them …' He took one of the oliebollen from the plate, … 'Damn me, that's hot,' he said, blowing on the piece of pastry and waving it back and forth, then dropping it on the floor. (289–290)
Die bollen bestaan dus uit beslag (batter), en ze komen heet uit de pan: een soort beignets, actually. Maar hoezo juist vandaag? Ook hier expliciteert de vertaling een stukje Nederlandse cultuur: 
'Hoe oud zou het gebruik zijn, vader?' vroeg hij, 'om oliebollen te maken?' (184)
'How long has that custom been around, Father,' he asked, 'the custom of making oliebollen on New Year's Eve?' (298)
De lezer van The Evenings kan met oudjaar zo bij ons aanschuiven. Misschien krijgt hij de volgende dag wel een feestelijk toetje:
Als dessert was er gele vanillepudding met beschuiten, jam en chocoladehagelslag in lagen er in verwerkt. (171)
For dessert there was yellow vanilla custard, with layers of beschuiten, jam and chocolate sprinkles. (276)
Bibliografie
Diederik Huffels. 'Zo wordt De Avonden van Reve in het Engels vertaald'. NRC, 24 oktober 2016.
Gerard Kornelis van het Reve. 1964. De avonden. Een winterverhaal (tiende druk). Amsterdam: De Bezige Bij.
http://www.gratispdf.nl/wp-content/uploads/2015/05/De-Avonden-Gerard-Reve.pdf (bevat een recentere versie van de brontekst, die Garrett blijkbaar gebruikt heeft).
Gerard Reve. 2016. The Evenings. A Winter's Tale. Translated from the Dutch by Sam Garrett. London: Pushkin Press.
Bert de Waart studeerde Nederlands aan de Universiteit van Amsterdam en werkte tot 2008 als leraar Nederlands. In 2013 behaalde hij zijn master vertaalwetenschap aan de Universiteit Utrecht. Momenteel is hij vooral geïnteresseerd in Engelse vertalingen van Nederlandse poëzie.