Toneel hernieuwd: Sofokles' Antigone in Zuid-Afrika
Tycho Maas

Zuid-Afrikanen weten dat de vertaling van belangrijke buitenlandse literaire werken een manier is om de eigen cultuur te verrijken. Het Afrikaans, dat zijn oorsprong heeft in het Nederlands, werd in 1925 verheven tot officiële taal van (destijds) de Unie van Zuid-Afrika. Een toenemend nationalistische politiek stimuleerde in de daaropvolgende decennia dat er hoe langer hoe meer 'eigen' literatuur in het Afrikaans werd geproduceerd, én dat er steeds meer literatuur in het Afrikaans vertaald werd. Klassiekers uit de Nederlandse letterkunde werden met parallelvertaling in het Afrikaans bijvoorbeeld uitgegeven in een reeks met de veelzeggende titel Van stamverwante bodem.
Toen ik als kersverse inwoner van Kaapstad in 2014 mijn eerste rondjes door de bibliotheek maakte, viel mij het relatief grote aantal vertalingen van Griekse tragedies op. Sommige titels kwamen vaker terug dan andere: sinds de jaren zeventig verschenen er vijf of meer vertalingen van Medea, Bacchae, en Antigone. Ik wil hier kort ingaan op enkele vertalingen van Antigone (442 v.Chr.), de tragedie van Sofokles '[that has] spoken more to the modern imagination than any other Greek tragedy except perhaps his Oedipus the King' (Lardinois 1994: 15). Het aanzienlijke aantal Afrikaanse vertalingen illustreert dat het stuk in de apartheidsjaren bekendheid genoot, voornamelijk ten dienste van een nationalistische agenda, als stichtelijk kompas en hoogtepunt van blanke cultuur. Maar Antigone, en daar gaat het mij om, werd óók door tegenstanders van het apartheidsregime ingezet als proteststuk.
In Antigone, sterven Antigone's rivaliserende broers Polynices en Eteocles in de strijd om de stad Thebe. Eteocles, die de stad verdedigde, wordt begraven, maar Kreon, Antigone's oom en koning, verbiedt de begrafenis van Polynices, omdat die de regering, die hem volgens afspraak toekwam, wilde opeisen – maar Kreon ziet hem als staatsvijand. Antigone negeert Kreons besluit en begraaft haar broer. Kreon laat haar daarna gevangennemen en opsluiten in een soort tombe, waarna Antigone zelfmoord pleegt. Een centrale vraag van Antigone is hoe loyaliteit ten opzichte van overheid en familie zich tot elkaar en tot het persoonlijke geweten verhouden. Ondanks dat Antigone stevig verankerd zit in de politieke ideologie van de oud-Griekse wereld, geeft deze vraag het stuk na 2500 jaar én in een Zuid-Afrikaanse context opnieuw betekenis.
In Kaapstad las ik natuurlijk Nelson Mandela's autobiografie Long Walk to Freedom, waarin beschreven staat dat de bibliotheek op Robbeneiland bewust klassieke literatuur verzamelde voor de politieke gevangenen, meestal in de Penguinvertaling, om ze moreel te heropvoeden. Maar de gevangenen mochten er ook Griekse tragedies opvoeren; Mandela herinnert zich zijn rol als Kreon. Zijn kritiek op Kreons fatale tekortkoming – zijn onvermurwbaarheid – was ingegeven door zijn overtuiging dat een leider zich in het toepassen van de wet moet kunnen laten leiden door genade, iets wat hij overigens als eerste democratisch gekozen president van Zuid-Afrika in praktijk zou brengen met zijn verzoeningsbeleid. Mandela's oordeel over Antigone vormde zich naar eigen zeggen niet alleen door toneeltekst 'droog' te lezen, maar vooral door op het toneel echt Kreon te 'zijn': 'It was Antigone who symbolized our struggle; she was, in her own way, a freedom fighter, for she defied the law on the ground that it was unjust' (1995: 626).
In het wetenschappelijk debat over Sofokles' Antigone mag dan allerminst consensus bestaan over de vraag of Antigone's daad van verzet terecht dan wel onterecht, en goed dan wel slecht was, maar voor Mandela werd zij in de context van zijn politieke gevangenschap een martelaar en held: 'What I took out of Greek plays was that character was measured by facing up to difficult situations and that a hero would not break under even the most trying circumstances' (1995: 627). Een klassiek toneelstuk wordt opnieuw relevant doordat de actuele context het urgentie geeft, en de eigen situatie erin herkend kan worden. Behalve in de opvoeringen op Robbeneiland, komt deze toespitsing van Antigone steevast terug in andere zwarte en blanke Zuid-Afrikaanse producties uit de apartheidsjaren.
Bij de inheemse bevolkingsgroepen van Zuid-Afrika neemt de toneelpraktijk een centrale plek in, mede dankzij het van oudsher orale (en niet schriftelijke) karakter van hun culturen. Aangezien een opvoering letterlijk ongrijpbaarder is dan een boek, vormde toneel een relatief veilig protestmedium voor zwarte theatergroepen tegen een blank-nationalistische regering, die sociaal-politiek geëngageerde kunstvormen systematisch onderdrukte en vervolgde. S'Ketsh', een tijdschrift dat vooral gewijd was aan zwart theater, schreef in de zomer van 1973:
Nu er meer zwarte theatergroepen komen, wordt duidelijk dat in Zuid-Afrika niet langer l'art pour l'art het motto van de kunsten is. Voor de zwarte kunstenaar dient kunst Het Doel: kunst is er om mensen te informeren, verenigen, en inspireren, en om het aanbreken van 'De Toekomst' te bespoedigen. (1973: 43. Vertaling TM)
In de jaren zestig en zeventig had het zwarte publiek in Zuid-Afrika vaak nog nooit iets van westers toneel gezien. Griekse tragedies boden – vanuit onverwachte, want blanke hoek – nieuwe inspiratie en steun voor de eigen strijd tegen apartheid. Ondanks alle maatregelen van de regering kreeg TECON (The Theatre Council of Natal) het in het Zulu-thuisland voor elkaar om in 1971 een vrije Engelse bewerking getiteld Antigone in '71 op de planken te brengen. Het 'International Defence and Aid Fund' schreef daarover:
Het thema van verzet tegen onrechtvaardig bestuur kreeg een specifieke, Zuid-Afrikaanse toon doordat tijdens de inleiding filmfragmenten van sloppenwijken werden vertoond, en doordat het koor bestond uit zwarte vrouwen. Het thema van het toneelstuk werd daarmee het zwarte verzet tegen apartheid, en dat sloeg enorm aan.
(1977: 58. Vertaling TM)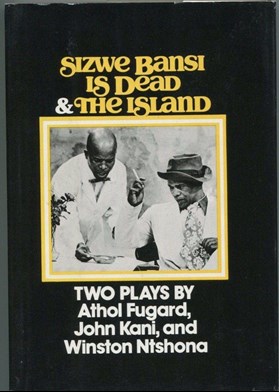 Maar het beroemdste Zuid-Afrikaanse voorbeeld van de interpretatie van Antigone's verzet in het licht van de strijd tegen apartheid is misschien wel The Island, van de ook in het buitenland geroemde (blanke, Engelstalige) theatermaker Athol Fugard, voor het eerst opgevoerd in 1973. The Island is een toneelstuk over twee zwarte broers, John en Winston, die opgesloten worden op Robbeneiland en daar samen een toneelstuk genaamd The Trial and Punishment of Antigone opvoeren. Dit toneelstuk-binnen-het-toneelstuk is geen vertaling van Sofokles' tekst, maar een door de broers sterk verkorte bewerking ervan. In Johns inleidende woorden voor het gevangenispubliek lijkt het oude Thebe te staan voor het Zuid-Afrika van de apartheid, en zijn verwijzing naar Antigone lijkt direct betrekking te hebben op Robbeneiland:
John: [Polynices] was to lie on the open fields to rot, or at most to be food for the jackals. It was a law. But Antigone, their sister, defied the law... She was caught and arrested. That is why tonight the Hodoshe Span [John en Winston], Cell Forty-two, presents for your entertainment: 'The Trial and Punishment of Antigone'. (1976: 73).
Winston en John als Antigone en Kreon (© The South African State Theatre)
Antigone (Winston) wordt voor straf door Kreon (John) opgesloten in een soort grot om de hongerdood te sterven. Hoewel er geen enkele directe verwijzing naar Mandela in het stuk voorkomt, was Zuid-Afrika's Antigone in 1973 Nelson Mandela, en de grot waarin de gevangene wordt opgesloten kon door een Zuid-Afrikaan alleen als Robbeneiland gezien worden: Mandela zat er van 1964 tot 1991 vast. The Trial and Punishment of Antigone actualiseert Sofokles' 2500 jaar oude kwestie, en stelt de vraag of een ondergeschikte zwarte/Winston/vrouw/Antigone weerstand kan bieden tegen de onrechtvaardige onderdrukking van een blank, patriarchaal regime. The Island sluit aan bij de Zuid-Afrikaanse protest-interpretatie van Antigone als martelaar en held, want het stuk legt een verband tussen het bestrijden van de onderdrukking door apartheid en de gewetensvrijheid waar Antigone voor staat: mensen zoals Mandela kunnen Antigone's rol op zich nemen zonder gewetenswroeging te hoeven hebben dat ze de wet overtreden. Overigens, achteraf bezien vormen de vrijlating van Mandela in 1991 en het formele einde van apartheid in 1994 een geruststellend laatste woord wat betreft Sofokles' kwestie of vergiffenis en genade soms zwaarder mogen wegen dan een strikte toepassing van de wet.
Vertalen behelst natuurlijk het omzetten van een brontekst in een doeltaal, maar deze korte vlootschouw van Zuid-Afrikaanse Antigone's illustreert dat voor het voortleven van toneel juist ook het vrij verkennen van thema's in de originele tekst en het verbeelden van parallellen met de eigen situatie belangrijk kunnen zijn. Dergelijke vormen van toe-eigening kunnen een toneelstuk een lang leven bieden, en het publiek loutering, en soms steun.
Literatuur
Fugard, A., Kani, J., en Ntshona, W. 1976. Sizwe Bansi is dead; and: The Island. New York: Viking Press.
International Defence and Aid Fund, 1977. 'A new wave of cultural energy: Black theatre in South Africa'. Theatre Quarterly 7.28: 57-63.
Lardinois, A. 1994. 'Beyond Hegel and Schlegel: An Ambiguous Reading of Sophocles' Antigone,', in: Lardinois, A. (ed.), Proceedings of the Interdisciplinary Center for Helenic Studies 4, Richard Stockton College, New Jersey, 14-28.
Mandela, N. R. 1995. Long Walk to Freedom. Randburg: Macdonald Purnell, 626-627.
S'Ketsh'. South Africa's Magazine for Popular Theatre and Entertainment. Summer 1973 Edition, Soweto, Johannesburg: New Classic Publications, 49.
Tycho Maas (1988) studeerde Latijn en Nederlands aan de Vrije Universiteit te Amsterdam en woonde enkele jaren in Kaapstad, waarna hij in 2020 aan de Universiteit van Amsterdam promoveerde op een proefschrift naar framing van inheemse Zuid-Afrikaanse bevolkingsgroepen in literatuur. Hij bespreekt Afrikaanse vertalingen van Nederlandse romans voor Tydskrif vir Letterkunde, is redactielid bij Armada. Tijdschrift voor wereldliteratuur, en hoofdredacteur van Roma Aeterna. Tijdschrift over de Eeuwige Stad.
Reageren? info@tijdschrift-filter.nl.