Respectloos Vertalen?
Haruki Murakami in het Westen
Lukas Skowroneck

In een café mocht ik laatst getuige zijn van een spontaan vertaaldebat. Aan de tafel naast mij zaten twee wat oudere heren koffie te drinken en op een gegeven moment kwam de Japanse auteur Haruki Murakami ter sprake. De ene man stelde dat de Engelse vertalers enorm veel veranderen aan zijn teksten. 'Welnee joh, dat komt allemaal door de uitgevers,' aldus de ander. 'Amerikaanse uitgevers geven alleen om de verkoop.' In het daaropvolgende weerwoord werden de Engelse vertalers respectloos genoemd en hun werk 'McDonald's-vertalingen'. Het gesprek ging op die toon nog even verder, maar de twee bleven stellig bij hun oorspronkelijke standpunten.
Op zulke momenten moet je je als vertaalstudent inhouden. Toevallig had ik hun discussie gevolgd en toevallig had ik voor mijn masterscriptie net een heel hoofdstuk gelezen waarin de Amerikaanse vertaler Jay Rubin schrijft over het vertalen van Murakami. Ik had ook een (voorzichtige) mening, maar ik kon moeilijk in het gesprek inbreken als een soort alwetende vertaler die even komt vertellen hoe het nu werkelijk zit. Misschien had dat de toon van het gesprek wel wat aangenamer gemaakt, want zoals bij alle verhitte discussies lag ook hier de werkelijkheid ergens in het midden.
Het is zeker waar dat de Amerikaanse uitgevers flinke invloed hebben gehad op de vertaling van een aantal romans, voornamelijk die van Nejimaki-dori kuronikuru (Engels: The Wind-Up Bird Chronicle). In Haruki Murakami and the Music of Words schrijft Jay Rubin over zijn vertaalproces, dat begon met de boodschap van uitgeverij Knopf dat het verhaal zo'n 25.000 woorden ingekort diende te worden. Dit alles, aldus Knopf, om Murakami's populariteit in de Engelssprekende wereld niet in de weg te zitten (meer hierover in 'Opwinding over opwindvogels' door Ivo Smits uit Filter 12:1). De weggelaten passages, die in overleg met Murakami werden gekozen, zijn misschien niet de allerbelangrijkste van het verhaal, maar het getuigt wel van arrogantie wanneer een buitenlandse uitgever eist dat er meerdere hoofdstukken uit een werk worden geschrapt.
Voorin mijn editie van The Wind-Up Bird Chronicle staat netjes 'Translated and adapted from the Japanese by Jay Rubin with the participation of the author', maar dat zal weinig lezers opvallen. Het feit dat de hele ingreep van het inkorten voor de lezer vrijwel onzichtbaar is zorgt voor een vreemde tweedeling in Murakami's oeuvre: er is een Japanse Murakami en een Engelstalige Murakami. De inkortactie van Knopf is een vrij extreem voorbeeld, maar er zijn nog talloze andere voorbeelden van subtielere weglatingen, toevoegingen en aanpassingen in de Engelse vertalingen. En deze zijn wel degelijk het werk van de vertalers.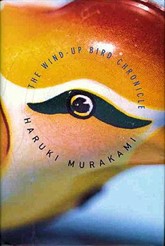 In Norwegian Wood staat bijvoorbeeld een onopmerkelijke passage waar de hoofdpersoon bij station Yotsuya in Tokio uit de trein stapt. In het Japans staat daar niets meer dan Yotsuya-eki (station Yotsuya) en vertalers maken er dan ook respectievelijk 'station Yotsuya' (Nederlands), 'der Haltestelle Yotsuya' (Duits) en 'stationen i Yotsuya' (Zweeds) van. Maar Jay Rubin lijkt de lezer van het Engels nog een dosis sfeer mee te willen geven en vertaalt: 'Yotsuya, where the green embankment makes for a nice place to walk by the old castle moat', een zin die je misschien eerder in een toeristische folder verwacht. In de brontekst wordt verder alleen kort genoemd dat de hoofdpersoon van Yotsuya naar station Iidabashi loopt. Tussen de twee stations kun je inderdaad een wandeling langs de oude kasteelgracht maken, maar de toevoeging van Rubin lijkt alleen gedaan om de buitenlandse lezer een sfeerimpressie te geven en heeft verder geen functie binnen het verhaal.
Misschien is er toch wel wat voor te zeggen. Lezers die het gebied rond het station niet kennen, krijgen zo toch een beeld bij de route die de hoofdpersoon aflegt. Je helpt de lezer dus om zich in te leven in het verhaal en de invloed van zo'n kort zinnetje op de interpretatie van de tekst als geheel is verwaarloosbaar. Anderzijds voegt het wel extra connotaties toe in een passage die in de brontekst neutraal is. En waarom verdient juist Yotsuya een toevoeging? Even later noemt Murakami vier andere stations waar de hoofdpersoon langs komt, maar hier wordt zonder extra uitleg aan voorbijgegaan.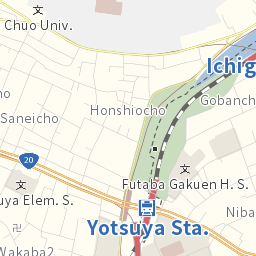 Zo wordt de vertaling op nog een aantal plaatsen toegankelijker gemaakt voor de niet-Japanse lezer. Een paragraaf waar Murakami in detail beschrijft welke bus de hoofdpersoon neemt wordt in het Engels met één zin ingekort. De buslijn en het vertrekperron, die wel in de brontekst staan, waren blijkbaar niet belangrijk genoeg. En hoewel Murakami bekend staat om zijn uitvoerige beschrijvingen van gerechten, doet Rubin er nog een schepje bovenop wanneer hij 'een traditioneel lunchmenu' (mijn vertaling) vertaalt als 'an old-fashioned cold lunch assortment with rice and pickles and grilled fish and tempura and teriyaki chicken'.
Toegegeven, dit zijn relatief kleine ingrepen. Maar alles bij elkaar levert het toch een andere leeservaring op – een extra aantrekkelijke, internationaal toegankelijke Murakami. Vertalers in andere talen zijn doorgaans kritisch over de Engelse versies: volgens de Zweedse vertaalster Yukiko Duke is Murakami in het Japans nooit zo hip of cool als in het Engels, de Duitse vertaalster Ursula Gräfe noemt de manier waarop soms met de brontekst wordt omgegaan ronduit arrogant, en onze eigen Luk Van Haute schrijft in Filter 18:1 dat de lezer van de Engelse vertalingen het met 'een verminkte en gecensureerde Murakami' moet stellen. Weinig lovende woorden.
Murakami heeft zelf gezegd dat hij bij het schrijven de nadruk legt op ritmiek en zijn best doet nooit méér betekenis in een zin te leggen dan absoluut noodzakelijk. Zijn stijl is hierdoor vrij 'onzichtbaar': licht en gestroomlijnd proza dat moeiteloos wegleest. Dit wil echter niet zeggen dat zijn stijl onliterair is, en het wil zeker niet zeggen dat je Murakami gemakkelijk kunt vertalen – integendeel. Juist de ogenschijnlijke moeiteloosheid van zijn zinnen is lastig over te brengen naar talen die syntactisch en cultureel ver van het Japans liggen. Juist op ritmiek en vlotheid scoren de Engelse vertalingen, al zijn ze soms 'opgeleukt', doorgaans beter dan een aantal andere vertalingen.
Murakami noemt zichzelf bovenal een verteller, en misschien is dat het allerbelangrijkste: het gaat bij hem minder om minutieus gestileerde zinnen en meer om de ideeën, die juist wel complex zijn. Ook wat dat betreft slaan de Amerikaanse vertalers de plank misschien toch niet helemaal mis: door de vertalingen nog een beetje extra te stroomlijnen ontstaat voor de niet-Japanse lezer een verhaal zonder vreemde exotische uitschieters die al te veel afleiden. Zo blijft de aandacht bij het verhaal.
Dat hierbij iets verloren gaat spreekt voor zich, en het is misschien ook, zoals de ene heer in het café zei, vrij respectloos. Maar zolang de vertelling optimaal wordt overgebracht kun je Murakami misschien wel een tikkeltje respectloos vertalen. Je zou kunnen stellen dat westerse lezers nu eenmaal een andere literaire achtergrond en voorkeur hebben dan de gemiddelde Japanner. Anderzijds is goede literatuur er juist om de lezer op te voeden, om diens gevoel voor esthetiek aan te scherpen. Literatuur mág vreemd zijn – graag zelfs. Als vertaler zoek je altijd naar de juiste balans tussen exotisch en vertrouwd, en wat dat betreft zijn sommige Engelse vertalingen misschien wat té Engels geworden.
Lukas Skowroneck studeerde Engelse taal en cultuur aan de Universiteit Utrecht en hoopt dit jaar de onderzoeksmaster Literair Vertalen af te ronden. Momenteel werkt hij aan zijn afstudeerscriptie over vertalingen van Murakami in het Nederlands, Engels, Duits en Zweeds.