Mijn gedroomde Pinocchio
De modellezer in de vertaling
Linda Pennings

Mijn hart maakte een sprongetje. Eindelijk een op de originele Italiaanse tekst gebaseerde vertaling van Cesare Beccaria's beroemde Dei delitti e delle pene, de achttiende-eeuwse verhandeling over misdaad en straf die de grondslag legde voor het moderne strafrecht. Vertaald en deskundig toegelicht door prof. dr. S.A.M. van Stolwijk en uitgegeven door Boom juridisch. Dit laatste gegeven had natuurlijk een waarschuwing moeten zijn voor de teleurstelling die mijn euforie, na opening van het boek, prompt tot zwijgen bracht. Vanaf de eerste bladzijde was duidelijk dat mijn lezersprofiel – italianiste met een passie voor literatuur en vertaling – geenszins strookte met de beoogde doelgroep: een publiek van juridische studenten en specialisten. Niet dat de vertaling wemelt van rechtskundig jargon, maar de inhoud prevaleert veruit boven de vorm: Beccaria's gedachtegoed schittert voor het voetlicht, maar zijn taal komt er bekaaid vanaf.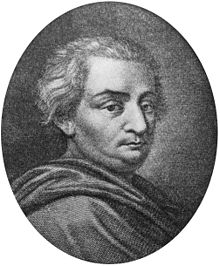 Cesare Beccaria
Het risico op een pijnlijke confrontatie met de modellezer, door Umberto Eco omschreven als de in de tekst vervatte ideale lezer met een door de schrijver, en op zijn beurt de vertaler, ingeschatte cognitieve bagage, is doorgaans niet zo groot. De signalen waarmee wij als empirische lezers naar het voor ons bedoelde boek worden geleid, zijn meestal duidelijk genoeg. De pijn treedt misschien alleen op in die gevallen waarin de modellezer van de vertaling een specifiekere gedaante aanneemt dan die van de brontekst. Ik schreef al eens dat de boeken van Andrea Camilleri over de Siciliaanse rechercheur Montalbano heuglijkerwijs in het Nederlands beschikbaar zijn voor de liefhebber van de detective, maar dat het taalspel en de diepere lagen die de Italiaanse lezer daarbij kan savoureren voor de Nederlandse lezer goeddeels verborgen blijven. Een keuze van de uitgever, natuurlijk, die zichtbaar wordt in reeks, kaftillustratie, paratekst, publiciteit, alsook in een vertaalstrategie waarin de modellezer van de vertaling een ander cognitief rugzakje krijgt aangemeten dan die van het origineel.
Kan het omgekeerde ook? Buiten het terrein van de vertaling is het oprekken van de modellezer aan de orde van de dag. Dat geldt bijvoorbeeld voor kinderliteratuur, zoals een willekeurige greep uit digitale tijdschriftkoppen illustreert: 'Children's Books Are Never Just For Children', '23 Children's Books You Need To Read Again As An Adult', '40 Classic Children's Books Even Adults Love', 'Why Adults Shouldn't Be Embarrassed To Read Children's Books'. Wat dit laatste betreft komt de Amerikaanse uitgever van Harry Potter de volwassen liefhebber tegemoet door het kinderboek ook in een grotemensenkaft te steken. En zo werd ik op mijn wenken bediend met de in mijn jeugd grijsgelezen versjes van Annie M.G. Schmidt – 'Mr. Van Zoeten', 'Rineke Tineke Peuleschil', 'Tante en oom in Laren' –, nu prachtig 'gedundrukt door Van Oorschot'. In de verantwoording lezen we dat in Die van die van u geen scheiding is aangebracht tussen de gedichten voor volwassenen en de kinderversjes, vanwege de eenheid in Schmidts poëtische oeuvre: 'Om die reden is in dit boek van de traditionele tweedeling afgezien: of het om "gedichten" dan wel "verzen" of "versjes" of zelfs "liedjes" gaat, is nu eens niet van belang.' Zo is dat.
Maar terug naar de modellezer in de vertaling, met een ander voorbeeld uit de kinderliteratuur. De Italiaanse vertaler uit het Deens Bruno Berni maakte enkele jaren geleden de zoveelste hervertaling van de sprookjes van Hans Christian Andersen. 'Waarom een hervertaling van Andersen?' is de vraag die Berni stelt in de titel van een artikel, om die in de ondertitel gelijk te beantwoorden: om rekening te houden met een dubbele doellezer. Behalve dat Andersen sprookjes voor kinderen en verhalen voor volwassenen schreef, die in deze integrale editie bijeengebracht zijn, benadrukt de vertaler dat de modellezer van de originele sprookjes een kind is, maar ook een volwassene die over de schouder van het kind meeleest. Voor wie anders dan voor die oudere modellezer zijn de subtiele nuances en de ironische toespelingen bedoeld? Deze meelezer, die in de voorgaande vertalingen zorgvuldig was buitengesloten, heeft in Berni's versie zijn plek teruggekregen. Ook in Nederland bestaat zo'n complete uitgave, in de mooie Perpetuareeks, deskundig vertaald en van noten voorzien door Annelies van Hees. Want, zo zegt de flaptekst over deze sprookjes: 'Nog altijd zijn ze verontrustend, ontroerend, ironisch of satirisch, voor zowel kinderen als volwassenen.'
Van de sprookjes van Andersen is het een kleine stap naar een ander boek dat tot de meest vogelvrije teksten van de wereldliteratuur behoort: Le avventure di Pinocchio van Carlo Collodi. Ook dit klassieke meesterwerk, dat in 1881 verscheen als feuilleton in een wekelijkse krantenbijlage voor de jeugd, kent zo'n 'hidden adult', die volgens jeugdliteratuurspecialist Perry Nodelman meer of minder verborgen zit in alle kinderboeken. Deze volwassen lezer komt ruimschoots aan bod in de wereldwijde pinocchiologie, maar niet in de talrijke vertalingen, die doorgaans alle uiterlijke en innerlijke kenmerken van een kinderboek vertonen. Dat geldt ook voor de overigens uitstekende en nog steeds herdrukte vertaling van Leontine Bijman en Annegret Böttner uit 1988: illustraties, grote letters, korte zinnen en eenvoudige woorden. Het kinderboek uit 1881 is leesbaarder gemaakt voor de eigentijdse beginnende lezer. Toch is de volwassen meelezer niet helemaal onzichtbaar: de uitgave van 2001 bevat een nawoord met informatie over de schrijver en het boek die duidelijk niet voor de jeugdige lezer is bedoeld. Er wordt verteld over de symboliek waarmee de geschiedenis van Pinocchio is doorspekt, over de daarin vervatte satire op menselijke ondeugden en over de parallel met de toenmalige politieke situatie in Italië.
 Le avventure di Pinocchio van Carlo Collodi
Toelichtingen bij symbolische betekenissen en historische achtergronden maar ook bij de talrijke intertekstuele verwijzingen naar grote klassieken – Bijbel, Apuleius, Dante etc. – zouden de leeservaring van menig volwassen lezer kunnen verrijken, maar betreffen niet de vertaling als zodanig. Anders ligt dat voor de stijl. Collodi's taal is buitengewoon poëtisch, beeldend, vindingrijk. Daarover zijn treffende uitspraken gedaan, bijvoorbeeld door Italo Calvino, die zijn meesterlijke vertelkunst heeft ontleend aan dit boek: het eerste dat hij meteen na het leren lezen, en nog talloze keren daarna, had verslonden. Volgens Calvino zou je Pinocchio, als betrof het een gedicht, van begin tot eind uit het hoofd moeten leren.
Is het mogelijk deze stijl in al zijn charme in het Nederlands om te zetten en hem voor kinderen aantrekkelijk en begrijpelijk te houden? Ik meen van wel. De woordkeus is markant en geestig, assonanties en alliteraties leggen betekenisvolle accenten, het ritme is geen staccato van korte zinnen maar een zwierige cadans waarin drievoudige herhaling, typisch voor het sprookje, de boventoon voert. 'De essentie van een literaire tekst schuilt in zijn ritme,' stelt Claudio Magris, 'en het is vooral dat ritme dat een vertaling moet kunnen overbrengen.' Hiermee bedoelt de schrijver uit Triëst vooral de suggestieve kracht die uit de taal oprijst en die de lezer, los van logische betekenis en rationeel begrip, een onbekende wereld binnenvoert. 
Pleidooi voor een vertaling speciaal voor volwassenen? Nee, liever voor de leeftijdloze lezer, zoals de voorbeeldige Amerikaanse uitgave van Nicolas J. Perella. Mijn gedroomde vertaling is een hypertekst die alle betekenislagen en stijlelementen van het origineel bevat en waarin willekeurig welke lezer naar believen keuzes kan openen of sluiten: illustraties, voorleesopties, notenapparaat, tweetalige weergave, interactieve tools... Maar voor het zover is zou ik al dolblij zijn met De avonturen van Pinocchio tussen de klassieken van de Perpetuareeks. En trouwens ook met een literaire vertaling van Beccaria's juridische meesterwerk.
Bibliografie
Andersen, Hans Christian. 2011. Sprookjes en verhalen. Vertaald door Annelies van Hees, met een nawoord van Manon Uphoff. Amsterdam: Athenaeum – Polak & Van Gennep.
Beccaria, Cesare. 2016. Over misdaden en straffen. Vertaald en toegelicht door prof. dr. S.A.M. Stolwijk. Den Haag: Boom juridisch.
Berni, Bruno. 2014. 'Perché ritradurre Andersen? Tener conto del doppio destinatario', Tradurre. Pratiche teorie strumenti, 6. http://rivistatradurre.it/2014/04/perche-ritradurre-andersen/
Calvino, Italo. 1995. 'Carlo Collodi, Pinocchio', in: Mario Barenghi (ed.), Saggi 1945-1985. Milano: Mondadori, p. 801-807. 
Collodi, Carlo. 2001. De avonturen van Pinokkio. Opnieuw vertaald door Leontine Bijman en Annegret Böttner. Amsterdam: Ploegsma.
Collodi, Carlo. 1986. The Adventures of Pinocchio. Translated with introduction and notes by Nicolas J. Perella. Berkeley & Los Angeles: University of California Press. 
Eco, Umberto. 1989. Lector in fabula. De rol van de lezer in narratieve teksten. Vertaald door Yond Boeke en Patty Krone. Amsterdam: Bert Bakker. 
Magris, Claudio. 2009. 'De schrijver en zijn vertalers' [vertaald door Tom de Keyzer], Filter, 16:3, p. 16/21.
Nodelman, Perry. 2008. The Hidden Adult. Defining Children's Literature. Baltimore: The John Hopkins University Press.
Pennings, Linda. 2015. 'Camilleri vertalen', Incontri, 30:1. http://www.rivista-incontri.nl/articles/abstract/10.18352/incontri.10060/
Schmidt, Annie M.G. 2014. Die van die van u. Amsterdam: Van Oorschot.
Linda Pennings werkt als universitair docent Italiaanse letterkunde aan de Universiteit van Amsterdam. Zij publiceert over vertaalproblematiek in de Italiaanse literatuur en vertaalde werk van o.a. Leonardo Sciascia, Italo Calvino en Claudio Magris.