Beter goed gejat dan slecht bedacht?
Rien Verhoef

Over de vertaling van bestaande poëziecitaten in romans bestaan uiteenlopende opvattingen. Sommige vertalers – Paul Beers is er een – vinden dat je 'mans genoeg' moet zijn om dit zelf te doen en dat het een soort zwaktebod is om uit bestaande vertalingen te willen putten, anderen proberen liefst juist bij 'voorgangers' te rade te gaan. (Dichtregels kunnen uiteraard ook nog onvertaald worden gelaten, maar op die mogelijkheid ga ik hier niet in.)
Misschien wordt onze persoonlijke voorkeur wel mede gestuurd door de nuchtere waarheid die Hans Boland laatst in de papieren Filter verwoordde: 'Als je iets kunt is het niet moeilijk en als je iets niet kunt is het wél moeilijk. Wie goed kan rijmen en over een zekere muzikaliteit beschikt kan twintig of meer regels van Poesjkin op een dag vertalen; wie het eerste niet kan en het tweede ontbeert bokst er in een jaar nog geen vier voor elkaar – al is het maar omdat hij het na één dag opgeeft.'
Zelf behoor ik tot de vertalers die deze kunst moeizaam afgaat en die dan ook liever bij vaardiger vakgenoten spieken. Daarbij kunnen twee problemen rijzen: er bestaat geen vertaling, althans niet voor zover na te gaan, of er bestaan wel een of meer vertalingen, maar die blijken uitgerekend daar waar ik ze voor nodig heb niet bruikbaar te zijn. Deze onbruikbaarheid kan weer verschillende achtergronden hebben, maar meestal is het zo dat de dichter-vertaler zich juist op deze plaats een vrijheid heeft veroorloofd waar ik niet mee uit de voeten kan.
Ik geef een voorbeeld. In een vertaling kwam ik eens het Shakespearecitaat 'Youth's a stuff will not endure' (uit Twelfth Night / Driekoningenavond) tegen. Omdat het vooral om de inhoudelijke betekenis ging, vond ik dat het niet onvertaald kon blijven. Aan mijn vaste 'vakgenoot' Burgersdijk had ik bij uitzondering niet zoveel, omdat bij hem de zinsnede onderdeel was geworden van een doorlopende regel met inversie die eindigde met 'Vóor de jonkheid henenvliedt'. Fraai genoeg, daar niet van, maar praktisch-technisch dus niet zo bruikbaar. Ik had immers eerder een stellige, bijna aforistische uitspraak nodig.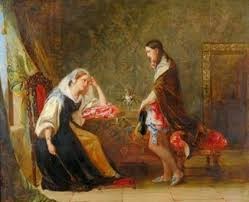 Henry Nelson O'Neill, Scene uit Twelfth Night, 1862
Hoe we erop kwamen weet ik niet meer (het was nog in de tijd dat ik samen met Sjaak Commandeur vertaalde, eind jaren zeventig), maar Vondel bracht de volmaakte oplossing: '(De schoonheid en) de jeugd en kan niet lange duren.' Door alleen het tweede gedeelte van Vondels wijsheid te kiezen, hadden we de 'perfecte pasvorm'. Het staat me bij dat we toen zelfs nog hebben gemijmerd over de mogelijkheid dat Shakespeare een wijsheid had vertaald van Vondel – in zijn tijd immers een Europese beroemdheid – maar gelet op de datering van Twelfth Night (1601–1602) en het geboortejaar van Vondel (1587) kon die chauvinistische gedachte geen standhouden…
De herinnering aan de stuff kwam boven toen ik voor VertaalVerhaal contact had met Vincent Hunink (Letterenfonds Vertaalprijs voor literaire non-fictie 2011) over de opname als vertaalverhaal van een artikel dat eerder verscheen in Filter, 13:2, 2006. Ook hij was immers bij Vondel uitgekomen – in zijn geval om zich wegens krappe 'speelruimte' te ontdoen van overtollige lettergrepen in twaalf Romeinse godennamen.
Maar áls je dan een bestaande vertaling vindt, kan het ook nog gebeuren dat die weer om een andere reden geen oplossing biedt, namelijk dat de dichter-vertaler nu juist daar minder op dreef is… Ik geef twee voorbeelden die ik in combinatie onlangs tegenkwam tijdens mijn vertaling van Nutshell (Notendop) van Ian McEwan (onlangs verschenen bij De Harmonie). Daarin legt McEwan zijn – verrassende – hoofdpersoon in de mond: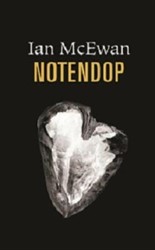 Most of the modern poems leave me cold. Too much about the self, too glassily cool with regard to others, too many gripes in too short a line. But as warm as the embrace of brothers are John Keats and Wilfred Owen. I feel their breath upon my lips. Their kiss. Who would not wish to have written Candied apple, quince, and plum and gourd, or The pallor of girls' brows shall be their pall?
Nu zijn deze regels al weleens vertaald, maar ik had natuurlijk wel rekening te houden met dat 'Wie had niet willen schrijven'. Zo is 'The Eve of St. Agnes' van John Keats bijvoorbeeld (als 'Agnietenavond') vertaald door Jan Kuiper:
terwijl hij van de kast was teruggekeerd
met appel, kwee, pompoen, kwets, gekonfijt
(While he forth from the closet brought a heap
Of candied apple, quince, and plum, and gourd;)
Maar met die 'appel, kwee, pompoen, kwets, gekonfijt' had ik twee problemen: ik vond de oplossing nogal gewrongen en Kuiper had zich niets aangetrokken van een annotatie bij de gourd in het gedicht die luidde: 'A quince is a small, yellow, apple-type fruit [kwee], and the "gourd" probably refers to a melon, not a squash.'
Een vergelijkbaar euvel had de oplossing van Tom Lanoye in 'Anthem for Doomed Youth' van Wilfred Owen, regel 4 uit de tweede strofe: 'The pallor of girls' brows shall be their pall'. Hij dichtte: 'De bleekheid van verloofdes dient hun lijk tot kleed' – overigens in een herdichting: in het boek staat nadrukkelijk: 'naar Anthem for Doomed Youth'. Om het maar simpel te zeggen: dat woord 'verloofdes' zag ik echt niet zitten.
Ook nu had ik dus wel bestaande versies, maar ik kon er niets mee. Redder in nood was, als zo vaak, de dichter Jan Boerstoel, mijn oudste vriend in het land der letteren. Hij vertaalde:
Konfijt van appel, kwee, meloen en pruim
en
De bleekheid van hun meisjes als hun lijkkleed
en daarvan durfde ik als vertaler dat 'Wie had niet willen schrijven' wel voor mijn rekening te nemen…