Eugenes zeehond
Bert de Waart

Denkt er nog wel eens iemand aan Nida? Ik weer wel, sinds 7 september vorig jaar. Toen werd in het terpkerkje van Huizum een boekje gepresenteerd met Slauerhoffs gedicht 'In memoriam Patris' en negen vertalingen (Slauerhoff 2018), en dat bevat een nidiaanse zeehond, dacht ik.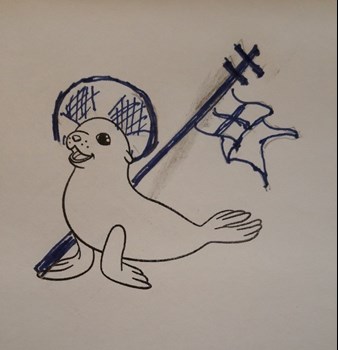 Eigenlijk heb ik Nida's grote boek over vertalen, speciaal van de Bijbel, nooit gelezen. James Holmes vertelde tijdens een college over vertalen voor UvA-studenten, in 1968 of 1969, over het onderscheid dat Nida maakt tussen 'formeel' en 'dynamisch' equivalent vertalen. Als een element uit je brontekst in je doelcultuur onbekend is kun je het, eventueel zelfs met voetnoten, daarin introduceren: dat is formeel-equivalent vertalen. Ofwel je zoekt het passendste equivalent in de doelcultuur: dan vertaal je dynamisch-equivalent. Een voorbeeld van dat laatste betrof iemand die de Bijbel aan het vertalen was in het Inuit, en, omdat Inuit zich geen voorstelling kunnen maken bij het begrip 'lam', het Lam Gods vertaalde als de Zeehond Gods, maar dan natuurlijk het Inuitwoord voor 'zeehond', of waarschijnlijk dat voor 'jonge zeehond'. Door die vertaler bedacht, door Nida vermeld, door Holmes naverteld, en door mij sindsdien onthouden als voorbeeld van de pracht van het vertalen, waarvoor geen culturele barrière te hoog is.
Maar ik wilde het toch even met eigen ogen zien in Nida's boek, en kijk nu eens:
For example, in Bible translating, it is quite impossible to remove such foreign 'objects' as Pharisees, Sadducees, Salomon's Temple, cities of refuge, and such Biblical themes as anointing, adulterous generation, living sacrifice,
and Lamb of God, for these expressions are deeply imbedded in the very thought structure of the message.
(Nida 1964: 167)
Afblijven dus, niks te zeehonden, gewoon het Lam vertalen. Heb ik het verkeerd begrepen, heeft Holmes het verzonnen, of heeft hij naar de bovenstaande passage verwezen en toen, misschien bij wijze van grap, toch een dynamisch-equivalente vertaling bedacht? Niet meer te achterhalen.
Nog een sterk verhaal dat ik op gezag van Holmes al die jaren in geuren en kleuren uit Nida heb naverteld. Een Britse zendeling heeft tientallen jaren in Afrika gewerkt aan een vertaling van de Bijbel in een lokale taal. Als die klaar en gedrukt is, gaat hij eindelijk op verlof naar Engeland. Daar kijkt hij nog het een en ander na in de bibliotheek van het Brits Museum en ontdekt hij toch nog wat onvolkomenheden in zijn vertaling. Hij gaat terug naar Afrika, en stelt de leiders van de lokale kerk voor die in de volgende druk te corrigeren. Ze kijken hem verbijsterd aan: waar hij de vermetelheid vandaan haalt iets te willen veranderen aan het Woord van God Zelf! Een prachtig voorbeeld van de hoge status van Bijbelteksten, en van het feit dat ook een vertaling die status vrij vlot kan krijgen. Maar ik heb het bij Nida (nog) niet teruggevonden…
Wel ontdekte ik hoe rijk, hoe goed geschreven en hoe praktisch bruikbaar Toward a Science of Translating nog steeds is, vol met inderdaad spannende voorbeelden over cultuurverschillen waar een bijbelvertaler tegenaan loopt. Bijvoorbeeld, direct na het boven geciteerde, op p. 168. Bij de Jivaro-Indianen in Ecuador dragen de mannen het haar lang, en de vrouwen heel kort. Hoe vertaal je dan (ik citeer de NBG-bijbel) I Kor. 11:14: 'Leert de natuur zelf u niet, dat, indien een man lang haar draagt, dit een schande voor hem is...'.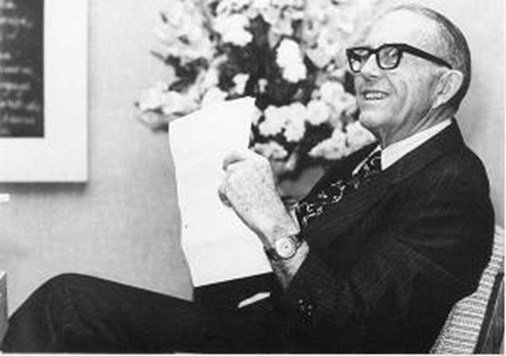 Eugene Nida (1914-2011)
Nida was ook goed op de hoogte van de nieuwe taalkundige theorieën van het moment. Op p. 35 laat hij bijvoorbeeld zien dat je uit de betekenis van black en bird, respectievelijk die van green en house, niet kunt afleiden wat blackbird en greenhouse betekenen. Daar heb je ook de syntaxis voor nodig, zoals je die ook nodig hebt om de twee betekenissen van the fat major's wife te doorzien. En het was een verrassing om toch een zeehond in het boek te vinden, en nog jong ook: op p. 39 wordt, met verwijzing naar Katz & Fodor, het beroemde boomdiagram van de diverse betekenissen van bachelor gereproduceerd en uitgelegd. De laatste betekenis, '[animal] young fur seal when without a mate during the breeding time', kent iedere taalkundige boven een zekere leeftijd uit zijn hoofd. En van al die taalkunde laat Nida zien hoe ze van pas komt bij het vertalen: waarom je niet zwartvogel en groenhuis kunt vertalen bijvoorbeeld (maar Nida heeft het nergens over het Nederlands).1


Kaatsachtigen
Maar er staan in Slauerhoff 2018 dus wel dynamisch-equivalente vertalingen naar nidiaanse snit, al mogen ze dan geen zeehond heten.
'In Memoriam Patris' beschrijft in 34 kwatrijnen de ziekte, het overlijden en de begrafenis van de vader van de ik-figuur, en herinneringen van de laatste aan zijn vader; en we mogen deze beiden wel identificeren met de dichter en scheepsarts J.J. Slauerhoff (1898-1936), en zijn vader, de succesrijke Leeuwarder ondernemer J.J. Slauerhoff (1862-1929).
In strofe 2-4 wordt verteld hoe verbeten de vader reageert op zijn ziekte:
Je hebt geleefd naar je aard
En je bent er ook naar gestorven,
Niet langzamerhand en bedaard,
Maar opeens, als korzlig geworden
Door artsen die raad moesten schaffen
En niets deden dan verbieden;
Door de meelijdende laffe
Belangstelling van de lieden
Die je vroeger de baas was
Met biljarten en kaatsen
En vooral 's winters, op schaatsen,
Bij een hardrijderij eerste klas. (r. 5-16).
Hoe vertaal je kaatsen? Er zijn, als gezegd, negen vertalingen: achtereenvolgens in het Frans, door Kim Andringa, in het Engels, door Allerd Hobers en Chantel Venema, in het Spaans, door Antinio Cruz Romero, in het Chinees, door Changheng Chen, in het Portugees, door Arie Pos, in het Fries, door Eppie Dam, in het Duits, door Manfred en Ute Mecklenburg, in het Russisch, door Atty Groot, Lina Nizova en Valeria Vinarskaja, en in het Italiaans, door Patrizia Filia. De Chinese karakters van Changheng Chen kan ik niet lezen, dus over die vertaling zal ik bescheiden zwijgen.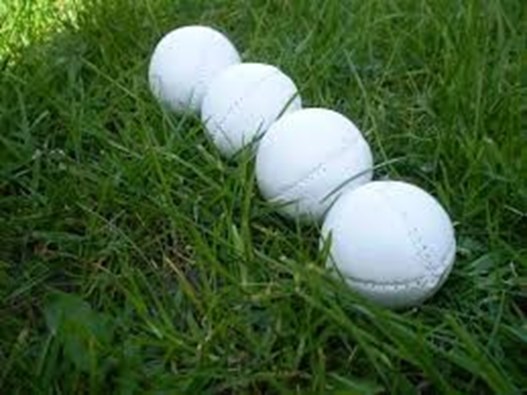 De Engelse vertaling heeft Frisian handball, en de Russische, met een Engels leenwoord, Frizskom gandvole.2 En ja, kaatsen is een Fries spel waarbij een bal met de hand wordt geworpen, zo kun je dat nalezen in Wikipedia of een sportencyclopedie. Frisian handball is een formeel-equivalente vertaling.
Maar dit is geen sportencyclopedie, dit is een tekst waarin een zoon verwoordt hoe zijn vader grimmig terugdenkt aan zijn vroegere successen, met biljarten en schaatsen, en met kaatsen. Het gaat hier, met andere woorden, niet over spelregels of speeltechniek, maar over de sociale functie van het spel. Kaatsen is hier meer een plaatselijke dan een Friese sport.
Het Friese keatsen heeft uiteraard, net als het Nederlandse kaatsen, beide betekenisnuances, dus dat staat er ook in de Friese vertaling. De Italiaanse generaliseert heel sterk: giocchi di palle betekent 'balspel', dus ieder spel met wat voor bal dan ook; zelfs voetbal is een giocco di palle.
De vier andere vertalingen  vervangen het kaatsen door een min of meer gelijkend spel uit hun doelcultuur: ze naturaliseren, zou Holmes zeggen. Dit zijn dynamisch-equivalente vertalingen, bromt Nida op de achtergrond, en dat equivalente zit 'm in de sociale functie van het spelen. Sporttechnisch lopen deze exotische kaatsachtigen nogal uiteen: in 'en billares y frontones' zijn die frontones ,'frontons', de muren waartegen de ballen van het pelota vasca (dat, anders dan de naam doet vermoeden, ook elders in Spanje wordt gespeeld) gekaatst moeten worden. 'No bilhar, na malha': bij het Portugese jogo de malha worden stenen schijven over de grond gesjoeld naar een paaltje. En bij 'jeu de paume' en 'Schlagball' wordt de bal niet eens met de hand gespeeld, maar met een racket of slaghout.
Maar gaan de Spaanse, Portugese, Franse en Duitse lezers dan niet denken dat er in Franeker net zoiets gebeurt als op hun dorpsplein? Dat moet dan maar, kun je denken, als ze maar begrijpen waarom dat spel zo belangrijk was voor Slauerhoff sr. Maar Eugene Nida stelt ons op p. 168 gerust: '…for all people recognize that other peoples behave differently from themselves'.


In keatspartij, a game of kaatsen, fives       
Tienmaal In Memoriam Patris is verschenen omdat, of ten minste terwijl, Leeuwarden Europese culturele hoofdstad was. In datzelfde kader zijn meer boeken uitgekomen, waaronder Swallows and Floating Horses, Bruinsma 2018. Dat is een bonte verzameling van teksten uit en over Friesland, en over Friezen, van elfde-eeuwse psalmglossen tot eenentwintigste-eeuwse gedichten, met teksten uit het huidige Friesland en de Friestalige gebieden in Duitsland, en teksten over Friesland uit heel Europa en daarbuiten. Die teksten over Friesland en de Friezen hebben als brontaal Fries, Latijn, Nederlands, Nederduits, Engels, Italiaans, Spaans en nog meer. Van de oorspronkelijk Friese teksten bevat het boek de tekst en een Engelse vertaling, van oorspronkelijk Engelse die brontekst, en van de andere alleen de vertaling. De meeste vertalingen zijn van David Colmer, Michele Hutchison, Susan Masotty, David McKay en Paul Vincent, die ook de inleiding en de toelichtingen heeft vertaald. Voor de meeste vertalingen uit andere talen dan Nederlands hebben Jetske Bilker, André Looijenga en Jantsje Post Nederlandse tussenvertalingen gemaakt. Een kakelbont boek dus.
Op p. 329-330 staat  een gedicht van Josse de Haan (uit De Haan 1996), 'In keatspartij soms like it', waarin die kaatspartij volgens de toelichting van Jetske Bilker een erotische metafoor is; het gedicht bevat ook nog drie kaatstermen. Dat vraagt om meer sporttechnische uitleg van de vertalers dan bij Slauerhoff, en die uitleg geven ze ook. Uit de vertaling van die toelichting, van Paul Vincent dus: '… making use of the metaphor of fives (kaatsen), a typical Frisian game'. Fives is een Engelse kaatsachtige sport: de muren lijken wel wat op de Spaanse frontones. Een dynamisch-equivalente vertaling dus, gevolgd door een calque, een letterlijke overname, hoewel niet uit de Friese tekst, maar uit de Nederlandse tussenvertaling, gevolgd door een omschrijving. Diezelfde calque wordt gebruikt in de vertaling van het gedicht, door Michele Hutchison, die zich baseerde op een Nederlandse tussenvertaling van Jetske Bilker. Van de twee kaatstermen worden er twee dynamisch-equivalent met een tennisterm vertaald, de andere omschreven:
In keatspartij soms like it, fûleindig en lykwicht
op 'e seisgelyk. Mar keningskippen út in fier ferline
spûken troch it no. Ferliespertijen spilen op - sloegen
bûten - […]
At times it resembled a game of kaatsen, energetic and poised,
tied at six points. But the kaatsen kings of yesteryear
haunted us now. Lost matches mounted up – balls
hit out -   […]
Deze twee Engelse teksten houden hun lezer behoorlijk bij de les, maar omdat we de Nederlandse tussenvertalingen niet kennen weten we niet wat het aandeel van Jetske Bilker is, en wat dat van Paul Vincent en Michele Hutchison.
Bibliografie
Bruinsma, Ernst, Alpita de Jong & André Looijenga (eds.). 2018. Swallows and Floating Horses. An Anthology of Frisian Literature. London: Francis Boutle Publishers.
Catford, J.C. 1965. A Linguistic Theory of Translation. An Essay in Applied Linguistics. Oxford: Oxford University Press. Pdf van de 5e dr. (1978): https://archive.org/details/J.C.CatfordALinguisticTheoryOfTranslationOxfordUniv.Press1965
Haan, Josse de. 1996. De lytse dea soms. Boalsert: Koperative Utjowerij.
Katz, Jerold and Jerry A. Fodor. 1963. 'The Structure of a Semantic Theory', in Language, 39, no. 2, p. 170- 210. Ook: https://www.um.edu.mt/__data/assets/pdf_file/0015/137112/Week_1_-_Katz_J.J._Fodor_J.A._-_1963_-_The_Structure_of_Semantic_Theory.pdf  De bachelor staat op p. 185.
Nida, Eugene A. 1964. Toward a Science of Translating. With special reference to principles and procedures involved in Bible translating. Leiden: E.J. Brill. Ook: https://kupdf.net/download/eugene-nida-toward-a-science-of-translating-bible-translating-1964pdf_59bb734208bbc5fb65894daf_pdf
Schaeken, Jos. 2017. Transliteratie van het cyrillische alfabet. Versie 3.1. Leiden: Universiteit Leiden. Een pdf van 3 pagina's; ook: http://www.schaeken.nl/lu/onderwijs/extra/cyrtrans.pdf
Slauerhoff, Jan. 2018, Tienmaal In Memoriam Patris. Vertalingen van het beroemde herdenkingsgedicht van -. Vert. door Kim Andringa (Frans), Allerd Hobers en Chantel Venema (Engels), Antonio Cruz Romero (Spaans), Manfred en Ute Meclenburg (Duits), Atty Groot, Lina Nizova en Valeria Vinarskaja (Russisch), Eppie Dam (Fries), Arie Pos (Portugees), Changheng Chen (Chinees) en Patrizia Filia (Italiaans), voor- en nawoord Peter de Haan. Dokkum: Dokkumer Diep.
Noten
1 Eerlijk is eerlijk: ook het boekje van Catford uit 1965, dat we tijdens dat college gebruikten, gaat uit van een taalkundige theorie, maar dan van de structuralistische van Halliday, die toen eigenlijk al was overvleugeld door de chomskyaanse generatieve grammatica waar Nida zich op baseert. Catford 1965 is ook veel beperkter van opzet.
2 Voor de transliteratie van de Russische tekst volg ik wat Schaeken 2017 het Nederlandse systeem noemt: de klankwaarde van de Cyrillische letters zo goed mogelijk benaderd met de regels van de Nederlandse spelling.
Reageren? info@tijdschrift-filter.nl.