'Douceur' en 'douleur' bij Janequin en Susato
Isabelle Bambust

Renaissanceluit studeren betekent meteen dat je (muzikale) leven eigenlijk nooit saai kan worden. Je leert de oude renaissancemuziek kennen en je wordt daardoor automatisch naar een andere tijd gekatapulteerd. Ik prijs me gelukkig met mijn leraar Bart Roose die deskundig is tot in zijn kleinste teen, en voor wie de renaissancemuziek zoveel meer is dan de tablatuur alleen. 'Tablatuur' is de benaming voor de wijze waarop men bijvoorbeeld in de renaissance op schrift de muziektonen aangaf voor bepaalde muziekinstrumenten, inzonderheid de instrumenten die voor meer dan één stem geschikt waren, zoals de luit. De Franse en Duitse tablatuur bestaat uit letters, de Italiaanse tablatuur uit cijfers. Deze letters of cijfers duiden de plaats van de vingers op de dubbele snaren (dubbelkoren) aan.
Dit muziekschooljaar startte ik op mijn verzoek met het lied 'S'il est si doulx' van Clément Janequin in Franse lettertablatuur. Janequin, een Frans renaissancecomponist, werd rond 1485 in Châtellerault geboren. Châtellerault maakt me niet alleen daarom warm, maar ook omdat het een belangrijk pelgrimsoord was en nog is op de Via Turonensis of de Voie de Tours (de weg van Tours) die vertrekkend in Parijs over Tours, Poitiers en Bordeaux naar Ostabat loopt. Janequin voelt zich in het genre van het Franse chanson het beste thuis. Zijn meesterschap en enorme populariteit hierin blijken uit publicaties bij tal van uitgevers: in Rome en Venetië, in Parijs, bij Pierre Attaingnant, en in Antwerpen, bij Susato. Janequin sterft in Parijs in 1558.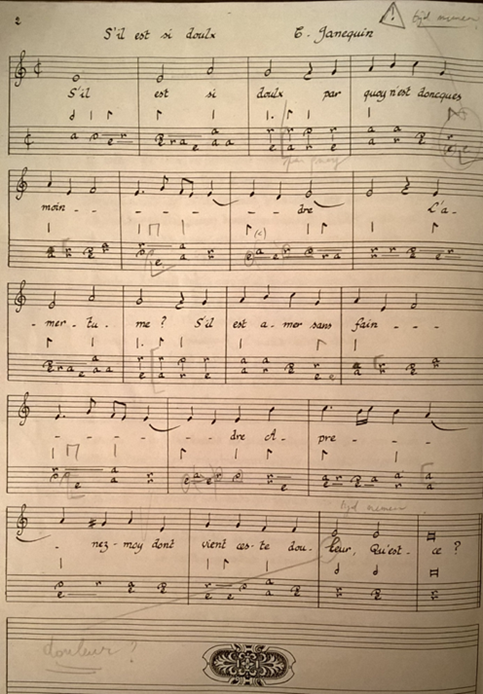 Ik had dit chanson van Janequin gevonden in Pascale Boquet, Vingt airs faciles pour voix & luth du XVIe siècle (France et Italie) (zie de foto hierboven).1 Dit driestemmige werkje is oorspronkelijk voor drie gezongen stemmen bedoeld. In de bundel van Boquet staat het uitgeschreven voor luit (twee stemmen) en zang (één stem). In deze uitgave klinkt de tekst als volgt:
S'il est si doulx par quoy n'est doncques moindre
L'amertume?
S'il est amer sans faindre
Aprenez moy dont vient ceste douceur
Qu'est-ce?
Ik had mij al in bochten gewrongen om een nuttige betekenis aan deze tekst te geven, toen ik in een andere bron vaststelde dat er niet 'douceur' maar 'douleur' stond – zie de uitgave in de International Music Score Library Project (IMSLP) / Petrucci Music Library.
Wat mij deed twijfelen aan 'douceur' waren de woorden 'sans faindre' in 'S'il est amer sans faindre'. Men voelt dus eerst de bitterheid (L'amertume). Daarna vindt men die bitterheid belangrijk genoeg om te preciseren dat ze niet geveinsd is. En dan lijkt het inderdaad natuurlijker vragen te stellen over een 'douleur' dan over een 'douceur'.
Om volledig uitsluitsel te hebben, kon ik niet anders dan naar de oertekst te kijken. 'S'il est si doulx' werd gepubliceerd in La Fleur de chansons et cinquiesme livre a trois parties co[n]tena[n]t xxvi nouvelles chansons, propices a tous instrumentz musicaulx.2 In het liedboekje voor de basstem, lees ik inderdaad opnieuw 'douleur' in plaats van 'douceur'. Mijn te zingen tekst wordt dus:
S'il est si doulx par quoy n'est doncques moindre
L'amertume?
S'il est amer sans faindre
Aprenez moy dont vient ceste douleur
Qu'est-ce?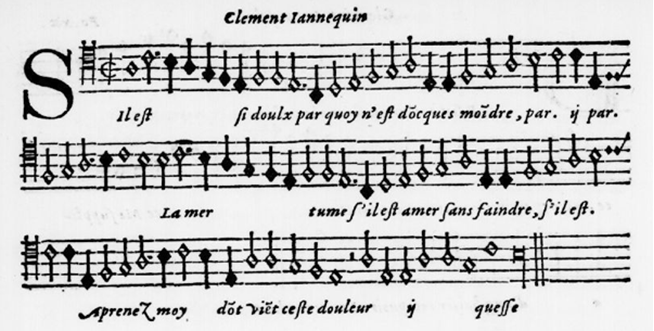 En zo, dus met 'douleur' in plaats van 'douceur', kan de vertaling meer steekhouden. Dit is mijn voorstel:
Al is 't zo zacht, waarom is er nog altijd
Zoveel wrangheid?
Al is die wrok geen veinzen,
Leer mij dan graag vanwaar die pijn toch komt
Vanwaar?
Ik wilde in de vertaling graag het aantal syllaben en dezelfde accenten behouden, zodat ook het muzikale maat- en ritmebeeld ongewijzigd kon blijven. Zo zijn er in mijn te zingen stem – zie de versie van Boquet – drie melismen (een melisme of notentros bestaat erin dat je verschillende noten na elkaar op eenzelfde syllabe zingt): één op 'moin' van 'moindre'; één op 'fain' van 'faindre', en één op 'pre' van 'apprenez'. Met het bewaren van ritme en accent in de vertaling, kunnen de drie melismen in het Nederlands vlot gezongen worden op respectievelijk 'al' van 'altijd', 'vein' van 'veinzen', en op 'mij'. Door de vertaling muzikaal nauw te laten aansluiten bij de oorspronkelijke versie, moet de inhoud soms wat inboeten. Zo herhaal ik bijvoorbeeld in het laatste vers 'Vanwaar?' terwijl het naar inhoud eigenlijk 'Wat is het?' moet zijn. Dit brengt volgens mij geen schade toe aan de boodschap van de tekst. In deze liedtekst wordt kort doch krachtig het samengaan van de zachtheid van de liefde en haar lijdende pendant in het licht gesteld.
In de Franse tekst is het oude gebruik van de tilde voor de letter 'n' opvallend. Er is ook de opmerkelijke vorm 'Quesse' voor 'Qu'est-ce' ('Wat is het?'). In dit licht valt op te merken dat in het Québec van vandaag de Franse informele vormen 'quessé' en 'quossé' bestaan voor 'qu'est-ce que c'est'. Het gaat hier om een mondelinge contractie.
Op het titelblad van het betreffende liedboekje staat de volgende tekst:  LA FLEVR DE CHANSONS ET / cincquiesme Liure a troix parties, cõtenãt xxvi nou- / VELLES CHANSONS, PROPICES A TOVS IN- / strumentz Musicaulx, composees par plusieurs bons maistres / musiciens, Imprimees en Anuers, par Tijlman Susato, / Imprimeur de Musicque, demeurãt deuãt le nou- / ueau poix, a lenseigne du Cornet tortu / Lan M. D. LII. au Moys de May / BASSVS / Cum Gratia & priuilegio, / Par Borgois. / On les vent a la nouuelle Bource a lenseigne / du moys de may.
Daardoor leren we dat het werk in mei 1552 werd gedrukt. De boekjes werden verkocht aan de nieuwe beurs, 'aan het uithangbord van de maand mei'. Ik vond inderdaad dat er in Antwerpen in het jaar 1531 een nieuwe beurs werd opgericht, aan de (huidige) Twaalfmaandenstraat (ontstaan om de nieuwe beurs toegankelijk te maken). In die Twaalfmaandenstraat werden de huizen aan de oostkant naar de namen van de maanden genoemd. Ik vermoed dus dat ik onder 'aan het uithangbord van de maand mei' moet verstaan dat de liedboekjes in het huis 'mei' van de Twaalfmaandenstraat werden verkocht. Hoe komt het dat ze daar werden verkocht, terwijl Susato zelf sinds 1543 in de Twaalfmaandenstraat woonde, en sinds 1551 bij het uithangbord van de 'cornet tortu', 'inden Cromhorn', tegenover de 'niewe waghe', 'le nouveau poix', dus de nieuwe publieke weegschaal (de waag)... En zou er een verband kunnen zijn tussen het feit dat de publicatiemaand van het boekje mei is, en dat het boekje bij het uithangbord 'mei' werd verkocht?
In 1978 verdedigde Kristine Forney een doctoraatsthesis over Susato als muziekuitgever.3 Op 8 oktober schreef ik naar Dr. Kristine Forney en legde ik haar mijn vragen voor. Ze antwoordde me erg vriendelijk en omstandig op 15 oktober 2020. Het feit dat het liedboek in de maand mei werd gepubliceerd en dat het ook aan het uithangbord van de maand mei werd verkocht is toeval. Forney schrijft daarover:
I do think the fact that your chanson was issued in the month of May at the sign of May is a coincidence. I believe this because there are a number of books in the Fleur de chansons series: your Janequin work is from the 5th book in the series. The 4th and 6th chanson books in this same series (also published in 1552) were also sold at the sign of May: the 4th does not specify the month in which it was published, and the 6th was issued in July.
Op de vraag waarom Susato de werken niet in zijn eigen huis verkocht, antwoordt Forney:
I imagine Susato was friends with a bookseller on Twaalfmaandenstraat […], and when he moved in […], he arranged for the next few books he published to be sold there, as it was an important commercial location in Antwerp.
Vele vragen, en vele antwoorden, maar toch blijf ik het moeilijk vinden om me een concreet beeld te vormen bij het reilen en zeilen van Susato in die Antwerpse Twaalfmaandenstraat. Er blijven wat 'relikwieën' en wat aanwijzingen over, maar wat schetsen deze luttele zaken meer dan een soort van (vermoede) kunstmatige poppenkast, zonder dat we te weten komen wat de personen die hierin hebben meegespeeld echt bezielde? Veel 'douceur', en ook wat 'douleur' dus. Maar is dit niet eigen aan het leven, en in het bijzonder aan het leven in deze bijzondere tijd?
Noten
1 Pascale Boquet. 1991. Vingt airs faciles pour voix & luth du XVIe siècle (France et Italie). Paris: Société Française de Luth. Collection Le secret des muses, Volume n° 10, p. 2.
2 La Fleur de chansons et cinquiesme livre a trois parties co[n]tena[n]t xxvi nouvelles chansons, propices a tous instrumentz musicaulx, Anvers: T. Susato, 1552, f.XXv.
3 zie Kristine Forney. 1978. Tielman Susato, Sixteenth-Century Music Printer: an Archival and Typographical Investigation, Ph.D. diss., Universiteit van Kentucky.
Isabelle Bambust is freelance vertaler en onderzoeker, en vrijwillig postdoctoraal medewerker aan de UGent, Faculteit Recht en Criminologie.
Reageren? info@tijdschrift-filter.nl