Poems found in translation
Bert de Waart

Onlangs kwam ik een blog op het spoor van de zonder twijfel virtuoze vertaler A.Z. Foreman. De blog heet 'Poems Found' en begon ongeveer een jaar geleden met de volgende post:
Pól Mac Cartáin: Yellow Submarine
At the turn of the 11th century, an Irish cleric by the name of Paulus Cartenius (Pól Mac Cartáin) who had taken up residence in Würtzburg, passed the time by composing idle verses which at the time seemed nonsensical.
Flava Submarina Navis
Paulus Cartenius

In vico olim quo sum natus …,
verderop vertaald met:
Long ago in the village where I was born / …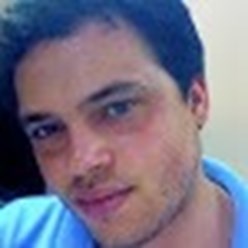 A.Z. Foreman
Hier wordt niet alleen in het Latijn vertaald, hier wordt een parallelle werkelijkheid gepresenteerd. Eenzelfde soort mystificatie ga je ook vermoeden als je bij 'About' het volgende leest:
About This Blog
Welcome to my little corner of the internet. This is a blog devoted almost exclusively to poetry in translation. Most posts take the form of a translation of a single poem and contain an attempt to translate the original as poetry. These translations (of which a table of contents can be found here) are meant to be enjoyed as poems, not scrutinized for lexical fidelity. Many posts also contain an mp3 recording of me reading the original text aloud. Some also contain supplementary material after the poem itself such as a commentary or literal translation, if I think it necessary.
About Me In The Third Person:
A.Z. Foreman is a translator and poet who has been obsessed with languages and literature since the age of 10. He is self-taught in many of the languages he translates, though he also holds a bachelors degree in linguistics from the University of Chicago, and a masters degree in Arabic from the University of Maryland. Print publications of his include translations from Arabic, Russian and Welsh. He has amassed great wealth which is now in jeopardy for reasons he cannot specify, and is in need of people with whom his family has no relationship, and therefore seeks your cooperation and assistance in the transfer of 8,000,000.00 to your private bank account. To show his appreciation, he will offer you 15% of the total sum including 20% of interest earned. Please treat this issue confidentially. Please send him your bank account number. He waits to hear from you.
Die inhoudsopgave vermeldt ruim 500 vertalingen uit 26 talen in het Engels: Arabisch (veel erotische poëzie), Catalaans, Chinees (onder anderen Du Fu en Li Bai), Esperanto, Nederlands (9 Vlaamse en 2 Nederlandse dichters), Frans (de 'groten'), (klassiek) Grieks, Duits (onder meer Goethe, Heine, Rilke), Hebreeuws, Italiaans (de bekenden uit alle bloemlezingen, waaronder drie canti uit de Divina Commedia), Latijn (klassiek, maar ook bijvoorbeeld een grafschrift van Alan Van Dievoet voor de slachtoffers van 9/11), Occitaans (de grote troubadours, maar ook twintigste-eeuwse gedichten), Oudkerkslavisch, Perzisch (Hafiz, Omar Khayyam, de bekende namen), Portugees, Romani, Roemeens, Russisch (de canon), Servisch, Spaans (Quevedo, Borges, García Lorca bijvoorbeeld), Syrisch, Ugaritisch, Urdu, Welsh en Jiddisj. Verder vertalingen in het Oudengels, een andere dode taal dus, net als het Latijn, en in het Frans.
Een middeleeuwse onderzeeër
Dat is een imponerend oeuvre: amazing, noemen de Amerikanen dat,1 apart, zeggen wij, maar hij is al zo'n tien jaar bezig, dus... En als je zo'n gedicht aanklikt krijg je een vertaling die er behoorlijk solide uitziet, met de brontekst erbij, vaak vergezeld van een opname van de vertaler die de brontekst voorleest ('Dus hij spreekt al die talen ook?' 'Ja, blijkbaar'), een degelijke inleiding op de dichter en het gedicht, indien van toepassing een transcriptie, en een minutieuze verantwoording van de vertaalkeuzen. Als kers op de taart reageert auteur van die vertalingen uitvoerig op door lezers gemaakte opmerkingen. Dat is geen mystificatie, dat is degelijk monnikenwerk.
De proef op de som
Maar laten we een paar van die meer dan vijfhonderd vertaalde gedichten nauwkeuriger bekijken. Van Paul Celan de laatste twee strofen van 'Todesfuge':
Schwarze Milch der Frühe wir trinken dich nachts
wir trinken dich mittags der Tod ist ein Meister aus Deutschland
wir trinken dich abends und morgens wir trinken und trinken
der Tod ist ein Meister aus Deutschland sein Auge ist blau
er trifft dich mit bleierner Kugel er trifft dich genau
ein Mann wohnt im Haus dein goldenes Haar Margarete
er hetzt seine Rüden auf uns er schenkt uns ein Grab in der Luft
er spielt mit den Schlangen und träumet der Tod ist ein Meister aus Deutschland

dein goldenes Haar Margarete
dein aschenes Haar Sulamith
In Foremans vertaling:
Black milk of daybreak we drink you come night
we drink you come midday Death is a German-born master
We drink you come evening come morning we drink you and drink you
Death is a German-born master his eye is so blue
He shoots with lead bullets he shoots you his aim is so true
a man lives at home the gold of your hair Margarete
he lets his hounds loose on us grants us a grave in the air
he plays with his vipers and dreams a dream Death is a German-born master

The gold of your hair Margarete
The ash of your hair Shulamith
Foreman handhaaft het obsederende staccato van het metrum, hij maakt het zelfs nog wat strakker: 'Schwarze Milch der Frühe' wordt 'Black milk of daybreak'. 'Come night', 'come midday', 'come evening' zijn in de maat, en fraai Engels. 'Der Tod ist ein Meister aus Deutschland': sommige vertalingen laten de hele zin in het Duits staan, of ten minste het woord 'Deutschland'. Andere vertalen ametrisch 'a master/ a gang-boss from Germany'2; dat doet Foreman eleganter met 'Death is a German-born master'. Als het Engels de mogelijkheid biedt door middel van binnenrijmen het obsessieve van de tekst te versterken, grijpt Foreman die mogelijkheid aan: 'he lets his hounds loose on us grants us a grave in the air'. Dan de slotstrofe: ook hier het metrum perfect gehandhaafd, en 'the gold of your hair/ the ash of your hair' is minstens zo'n huiveringwekkende klacht als 'dein goldenes Haar/ dein aschenes Haar'. Dit is bepaald geen traduire pour traduire: de gruwel van de brontekst treft je ook in het Engels tussen de ogen. De A.Z. Foreman van deze vertaling is meer dan virtuoos.
Als voorbeeld uit het Nederlands citeer ik hier Gorters 'De stille weg', Foremans vertaling en daaronder ter vergelijking die van Paul Vincent:
De stille weg
de maannachtlichte weg –

de bomen
de zo stil oudgeworden bomen –
het water
het zachtbespannen tevreeë water.

En daar achter in 't ver de neergezonken hemel
met 't sterrengefemel.

 

The silent road
The night's moonlightened road

The trees 
The ever so silently aged trees
The water
The softly tautened sated water.

And there yonder afar, the sunken sky
With its great starry lie.

(Foreman)

The silent road
the glowing moonlit road –

the trees
the oh so still and aged trees –
the water
the gently tautened contented water,

And beyond, far off, the sunken sky
with the stars' wheedling cry

(Vincent3)
Deze vergelijking doorstaat Foreman maar matig, maar de vertaling van Vincent is er dan ook een van de buitencategorie: zie mijn column De Waart 2016. Foremans tekst is te luidruchtig en te stellig: Gorters gedicht suggereert meer dan het beweert, zoals alle gedichten uit Verzen 1890. 'The night's moonlightened road' en 'The ever so silently aged trees' schetteren meer dan 'the glowing moonlit road' – en 'the oh so still and aged trees' –, en Vincent neemt ook Gorters gedachtestreepjes over. 'Sated', 'verzadigd', vind ik dan wel weer een fraaiere vondst voor 'tevreeë' dan het saaie 'contented'. Beide vertalers proberen tenslotte het rijm 'hemel – sterrengefemel' te behouden. 'Sterrengefemel' is het 'zachte gezeur van de sterren'. 'Wheedling cry', 'vleiende kreet', is dan veel te luid, maar 'great starry lie' is te groot en bovendien fout.
Nogal een slordige oplossing als je een woord als 'sterrengefemel' niet begrijpt: iets schrijven dat rijmt, maar het wijst wel op routine. Foreman bedoelt zijn vertalingen als gedichten, schrijft hij in 'About', dus het is een beetje flauw om ze uitvoerig te scrutinize on lexical fidelity. En zijn vertaalcommentaren zijn bij vlagen indrukwekkend.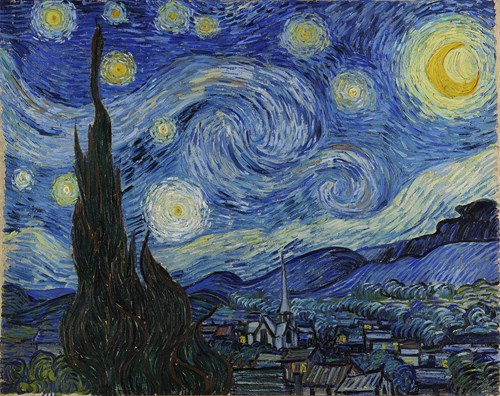 Sterrengefemel, vereeuwigd door Vincent van Gogh
Noten
1 De Amerikaanse dichter, literatuurprofessor en vertaler Joseph Hutchison zegt het zo: 'I've been following a fine freelance translator named A.Z. Foreman, who it seems has never met a language he doesn't know' (Hutchison 2014).
2 Bijvoorbeeld John Felstiner: 'this Death is a master from Deutschland', Jerome Rothenberg: 'Death is a gang-boss aus Deutschland' en Jürgen Braungardt: 'death is a master from Germany'.
3 Uit: Gorter, 2015:33.
Bronnen
Braungardt, Jürgen: http://braungardt.trialectics.com/literature/german/celan/deathfugue
Felstiner, John: https://www.celan-projekt.de/todesfuge-englisch.html
Gorter, Herman. 2015: Poems of 1890. A selection. Transl. By Paul Vincent London: UCLPress
Hutchison 2014: https://www.jhwriter.com/tag/a-z-foreman
Poems found in translation: http://poemsintranslation.blogspot.com/p/about-this-blog.html
Rothenberg, Jerome: https://poets.org/poem/death-fugue