Daw'bom
Jan Gielkens

1 Mei was weer in het land, en dan denk ik onherroepelijk aan de Internationale, het internationale strijdlied. En waarom doe ik dat? Omdat ik ooit zowel over de geschiedenis van 1 Mei als internationale arbeidersfeestdag als over de geschiedenis en de internationale verspreiding van de Internationale artikelen schreef (waarvan twee in Filter: 'Het heil'ge Ontwakingslied. De Internationale vertaald' en '"Wilt ten strijde u stalen!" De vroegste vertaling van de Internationale?').
De geschiedenis van de Internationale in het superkort: tekst van de Fransman Eugène Pottier uit 1871, 1887 voor het eerst gepubliceerd, 1888 op muziek gezet door de Frans-Belgische Jules Degeyter, vanaf het begin van de twintigste eeuw uitgegroeid tot hét socialistische lied. Er bestaan honderden vertalingen van de Internationale, want socialisten had en heb je overal. De Nederlandse vertaling van Henriette Roland Holst was een van de eerste. Er waren ook socialisten die vonden dat bij dezelfde ideologie voor iedereen ook een taal paste die voor iedereen hetzelfde was, bijvoorbeeld het Esperanto.
Toen ik nog jong en naïef was, vond ik Esperanto ook wel een goed idee. Dat wil zeggen: het was de eerste 'buitenlandse' taal waar ik me voor interesseerde. Ik haalde een lesboekje uit de openbare bibliotheek en bestudeerde dat een tijdje. Ik herinner me na al die tijd nog dat de zin 'de hond wordt geslagen met een stok' er in het Esperanto in voorkwam, maar hoe ik nu denk dat dat in het Esperanto klonk laat ik hier maar achterwege. Het boekje ging weer terug naar de bieb en ik ging echte talen leren. Talen die nu, als het iets geworden was met die socialisten en dat Esperanto, verdwenen zouden zijn. Met hun vertalers.
De arbeiders-esperantisten – zo noemden de socialisten die het Esperanto propageerden zichzelf – hadden natuurlijk hun eigen vertaling van de Internationale. Hadden, want de Nederlandse Federacio de Laboristaj Esperantistoj (FLE) bijvoorbeeld is in 1994 opgeheven. Wat ik aan die Internationale in het Esperanto altijd vreemd heb gevonden, is dat er niet slechts één versie van bestaat. Kunsttaal, denk je dan, dat is een kwestie van 1+1 = 2. Maar dat is blijkbaar niet zo. Want wat levert de map 'Esperanto' uit de Internationale-lade in mijn archiefkast op?
De meest gereproduceerde versie van J. Zilberfarb bijvoorbeeld, wiens naam niet genoemd wordt op de ongedateerde partituur die ik bezit, maar wel in een boekje Ni kantu! met liederen van de FLE uit de jaren dertig. Wie de Nederlandse tekst van de Internationale een beetje in zijn hoofd heeft ('Ontwaakt, verworpenen der aarde! / Ontwaakt, verdoemden, in 's hongers' sfeer!' etc.), weet zo'n beetje waar het begin van de Esperantoversie over gaat: 'Leviĝu, en mizer' dronanta / Sklavar' malsata de la ter'!'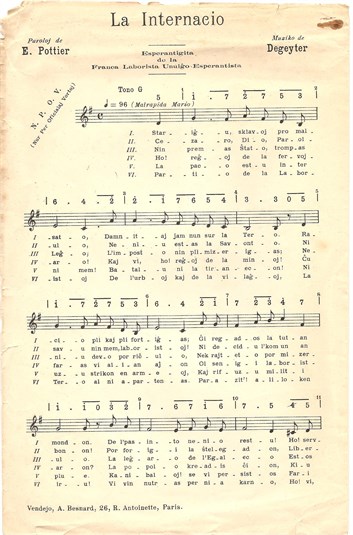 Maar er zit ook een andere versie in mijn map, die begint met de regels 'Leviĝu, proletar' de l' tero / leviĝu, sklavoj de malsat'!' en die dit als refrein heeft: 'Por batal', por la lasta / unuiĝu nia front'/ internacia estos / la tuta homa mondâ!' Terwijl de Zilberfarbversie zo eindigt: 'Por finlukto socia, / Ni grupiĝu en rond' / Kaj la internacio / Triumfu en tutmond'!' In het Nederlands, weet u het nog, ging het refrein zo: 'Makkers; ten laatsten male, / Tot den strijd ons geschaard, / En d'Internationale / Heerscht morgen op de aard!' Ik zal maar niet proberen de finesses van de verschillen in de twee Esperantoversies te doorgronden – daarvoor zou ik weer eens een Esperantocursus uit de openbare bibliotheek moeten halen. Maar het zou best kunnen dat er ideologische redenen voor de dissidente versie zijn: ze staat namelijk op een site van een club van communistische splinterpartijen die in Nederland wordt vertegenwoordigd door de Verenigde Communistische Partij, actief in het Groningse Oldambt en omgeving.
In mijn Internationale-la heb ik ook nog een andere map, die 'Kunsttalen (niet-Esperanto)' heet. Daarin zit een versie in het Interlingua en een in het Ido, allebei 'erkende' kunsttalen, maar vreemder is die in het Klingon. Want – zo moet ik concluderen, want ik heb nog nooit een aflevering van die SF-serie gezien – er zijn ook socialisten in het Star Trekuniversum. Of het Klingon lekker genoeg bekt voor een strijdlied betwijfel ik, want het refrein van 'Daw'bom: bom mu'ghltlhpu' challoD' gaat zo: 'maghommoH vajjupu' / may' Qav wIqaDmoH / betleH'mo' lughomqu' qorDu' / Daw'mo' qem batlhnoH'. Bovendien lijkt die derde regel in een kerstliedje thuis te horen.
U merkt het: ik neem het Klingon nog minder serieus dan het Esperanto. Maar anderen doen dat wel. Op www.klingon.org vind ik een discussie over het vertalen van de Internationale tussen Kaz Son of Maktan, chalvathl, qurgh en qoSagh, waaruit in elk geval blijkt dat er in Star Trekland niet gegoogeld wordt, want geen van deze wezens weet dat er al een eerdere versie bestaat. Of het moet zijn dat ook in deze sferen ideologische meningsverschillen heersen die het negeren van je tegenstander noodzakelijk maken. Discussiedeelnemer chalvathl heeft in elk geval een heel andere oplossing voor het refrein: 'may'vaD Qav yIrach'egh Hoch. / batlh Quamchugh tlhIH maH je / vaj tugh Hoch qIb Segh moj / Ienterna'cho'na'le'. Lijkt mij inderdaad stukken beter.