Een jurk is een jurk is een jurk
Ton Naaijkens

Het is nauwelijks verklaarbaar waarom koninklijke trouwpartijen zo ontroeren – of preciezer: de gemoederen zo bewegen, want er borrelt ook heel wat afkeer, ergernis en desinteresse op. Mij ontroert het flink, al schaar ik me niet onder de mensen die de geschiedenis indelen naar majesteitelijke verlovingen en huwelijken. Ik ben eerder van het vertoon: de blikken, de woorden en de aankleding. Neem de jurken, 's avonds een van Stella McCartney, op het moment suprême een van het huis Givenchy. Nog niet zo lang geleden kon je in het Haags Gemeentemuseum de creaties van Hubert de Givenchy bewonderen, in een tentoonstelling die To Audrey with Love gedoopt was – naar de beroemdste draagster van diens jurken tot nu toe. Daar zag je het ook al: de combinatie van kunst, roem en glamour doet wonderen.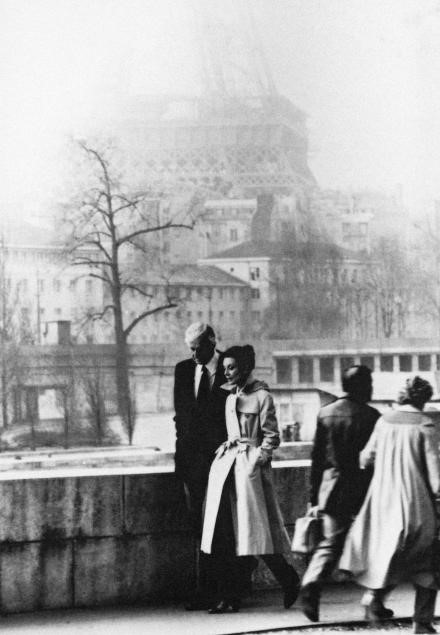 Audrey Hepburn en Hubert de Givenchy in Parijs, 1982, foto van Jacques Scandelari
En dan nu Meghan, ook al iemand met een hollywoodachtergrond, iets ouder dan haar Harry en vorige zaterdag – bij al het omringende vorstendom van stijfbritse natuur – superieur in houding en optreden. Ze droeg een cadyzijden spierwitte jurk van Clare Waight Keller en volgens Cécile Narinx paste die met z'n strakke belijning en slechts zes naden 'bij de weergaloos stralende persoonlijkheid van de bruid'. 'Een soevereine, volwassen vrouw,' noemde ze Meghan. Ik voel een band met deze stijlredacteur, die zich net als ik liet meeslepen door de gebeurtenis en hier handig gebruikmaakt van diepere lagen van het woord soeverein. Het deed me ook denken aan de jurk die nu in Utrecht te bewonderen valt in het Centraal Museum, de iconische inhuldigingsjurk van Maxima. Tussen alle jurken van Jan Taminiau die daar nu te zien zijn valt hij op – als jurk, en tegelijk als symbool van vrouwelijke kracht en expressie.
Bedolven onder jurken was ik de afgelopen week ook op een andere manier. Ik las het korte toneelstuk Counting her Dresses van Gertrude Stein, vertaald door Anneke Brassinga als Haar jurken tellen (De Nieuwe Toneelbibliotheek, Tekst #256). De vertaling komt voort uit een programmareeks van Perdu die De groene kamer heette en 'waarin dichter/vertalers waren uitgenodigd om toneelwerk te vertalen'. Ik heb de publieke lezing van Haar jurken tellen door Barbaren & Co destijds (in 2015) gemist en weet ook niet hoe de verkenning van de theatrale mogelijkheden van de tekst door De Theatertroep en 't Barre Land zijn uitgevallen, maar ik heb er alle vertrouwen in, zelfs als er niet eens stapels jurken aan te pas zijn gekomen. Counting her dresses is een stuk uit de bundel Geography and Plays van 1922. In die bonte bundel komt 'dress' 36 maal voor, het fraaist in deze zin: 'A language in a bath and in a dressing gown to a precision and a likely union and a single persian and a pressing quite not colored and a gloom not a gloom, and a pin all the same, and a pin not to share and a pin with a stone.' Ik hul het in een simpeler dos: 'Een taal in een bad en kamerjas zo ongeveer en ogenschijnlijk één en een enkele pers en een persing nogal ongekleurd en een somberte geen somberte en een speld van hetzelfde en een speld niet te delen en een speld met een steen.' Maar dat is als vertaling een probeersel waar de draden nog bijhangen: er moet nog een dos volgen waarin meer gelet is op de tinten en de textuur, de klanken en het spel met de woorden. Want dat past bij Gertrude Stein (1874–1946).
Blauw ben ik beu, zegt Anneke Brassinga namens Gertrude Stein – en het is geen commentaar op het koningsblauw van Maxima's jurk. 'I am tired of blue' is een uitspraak van ACT III ('Derde bedrijf'). Ik tel 7 sprekers die Bedrijf heten; ik tel 39 akten die 'Part' of 'Deel' heten. Het aantal jurken is niet te tellen. De zinnen zijn uiterst kort. Je tikt het hele stuk waarschijnlijk in een kwartiertje uit. Het vormde voor Anneke Brassinga vast het volstrekte tegendeel van haar befaamde vertaling De dood van Vergilius, alweer bijna dertig jaar geleden (1989): Hermann Broch schreef beduidend langere en complexere zinnen. Ik zal een fragment uit Haar jurken tellen laten zien:
Part V.

ACT I.

Can you speak quikcly.

ACT II.

Can you cough.

ACT III.

Remember me to him.

ACT IV.

Remember that I want a cloak.

Deel V.

EERSTE BEDRIJF.

Kun je vlug praten.

TWEEDE BEDRIJF.

Kun je hoesten.

DERDE BEDRIJF.

Vergeet niet hem mijn groeten over te brengen.

VIERDE BEDRIJF.

Vergeet niet dat ik een cape wil.
Het is een willekeurig deel, ter illustratie. De vertaling zal niet eenvoudig zijn geweest en je ziet eraan af dat er zwaar gedubd is. Ik noem de zin 'Thank you for the cow', die vertaald is met 'Bedankt voor de uier', ongetwijfeld om moverende redenen en om het absurdistische van het tafereel in de taal te laten ervaren. 'Jurken tellen is niet vervelend,' zegt EERSTE BEDRIJF, en 'Ramen zijn er voor de lucht' of 'Heb je een manier van zitten'. De mooiste regel is 'Maar intussen.' (voor 'In the meantime.'). Je voelt aan alles dat Gertrude Stein in 1922 al het modernisme, dada, het opkomende surrealisme in haar Parijse woning in zich opzoog en liet doorwerken in haar woorden.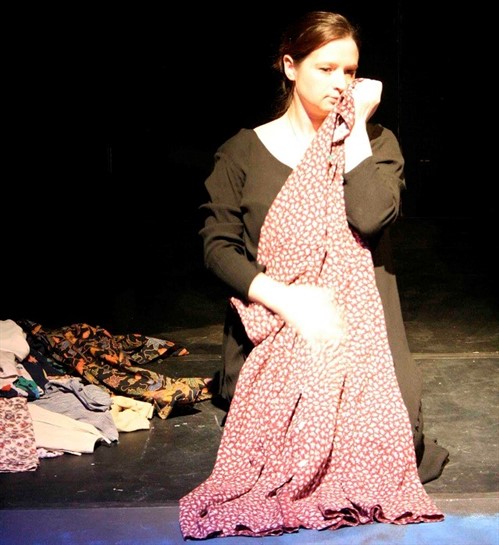 Counting her dresses and other plays... Performance gebaseerd op Steins toneelstuk, University of Reading, 2010.
Het talige werk van Gertrude Stein is hier nauwelijks vertaald; midden jaren tachtig werd er hier meer gekozen voor haar levenshouding en verscheen naast het kookboek van levenspartner Alice Toklas (bij Feministische Uitgeverij Sarah, 1985) vooral haar 'autobiografische' roman Q.E.D. (bij Lesbische Uitgeverij Furie, 1985). Meer aandacht voor de verschijningsvorm van haar literatuur was er bij Mon Nys, die in 2013 bibliofiel een vertaling van Poetry and Grammar uitbracht (Poëzie en spraakkunst, bij Druksel in Gent). Ik lees het ingewikkeldere werk het liefst in vertaling, met het Engels ernaast – Duitse dichters hebben zich er vaker op gestort. Ulf Stolterfoht vertaalde Winning His Way al eens (2005) en van het beroemde Tender Buttons bestaan twee Duitse vertalingen: Zarte Knöpfe van Marie-Anne Stiebel en Klaus Reichert (1996) en het fantastische Zarte knöpft van Barbara Köhler (2004). Het eerste deel van Tender Buttons bespreekt dingen, daaronder 'A LONG DRESS', met de hier en nu toepasselijke regels als huiswerk voor Filter-lezers: 'Where is the serene length, it is there and a dark place is not a dark place, only a white and red are black, only a yellow and green are blue, a pink is scarlet, a bow is every color. A line distinguishes it. A line just distinguishes it.'