Een schlemiel met een pisang
Christiane Kuby

Berlijn, begin februari. Een laagje sneeuw bedekt daken en stoeptegels. De lucht is grijs en de wind koud, maar dat is niets in vergelijking met twee jaar geleden, toen de Else-Ottenprijs in de Grüne Salon van de Volksbühne op de Rosa-Luxemburgplatz werd uitgereikt en de sneeuw kraakte onder onze voeten. Dit jaar vindt de uitreiking plaats in het Literarische Colloquium Berlin (LCB) aan de Wannsee, waar ook de driedaagse vertalersworkshops en ontmoetingen plaatsvinden die georganiseerd zijn door de Vlaamse en Nederlandse letterenfondsen en het Vertalershuis Amsterdam. Wat een heerlijke plek om te werken, in die hoge ruimtes met uitzicht op het meer!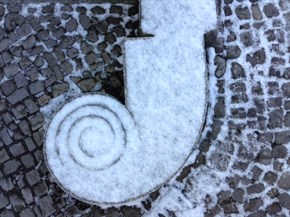 (Foto: Andrea Kluitmann)
Tijdens de workshops buigt een vijftal vertalers zich onder leiding van Rolf Erdorf over de Nederlandse jeugdliteratuur. De anderen, onder wie ikzelf, maken samen met Marlene Müller-Haas een begin met de vertaling van de herontdekte roman Een dwaze maagd (1959) van Ida Simons (1911–1960). De hamvraag voor vertalers van deze tekst, zo wordt snel duidelijk, is: hoe breng je de originele humor van Simons in het Duits over? De twee eerste zinnen van het boek geven al een aardig beeld van wat de vertaler te wachten staat:
Van jongs af aan was ik eraan gewend mijn vader, ongeveer dagelijks, te horen zeggen, dat hij zijn medemensen ernstig benadeeld had omdat hij geen begrafenisondernemer geworden was. Naar zijn stellige overtuiging zou, onmiddelijk daarna, de bevolking van onze planeet louter uit ontsterfelijken bestaan.
Het duurt even voor het kwartje valt, als je dit leest, want dat waar het om gaat blijft impliciet. Natuurlijk zit het geestige in de plechtstatige toon waarmee de vader van de vertelster iets absurds beweert, alleen maar om te zeggen dat alles wat hij aanpakt tot mislukken is gedoemd, wat in de derde zin wordt uitgelegd: 'Hij was een schlemiel en hij wist het; hij had er wel meer zure grapjes over.'
Wat is een schlemiel? Daar kunnen we het niet meteen over eens worden. Een pechvogel, zegt de één, iemand die in alles mislukt, door zijn eigen domheid; een sluwe vos, zeggen anderen. Blijkt het woord in het Duits die twee betekenissen te hebben, waarvan de tweede, die van 'Schlitzohr', volgens sommigen van ons, zwaarder zou moeten wegen. Dat is een essentieel verschil met het Jiddisj, waar juist de domheid en de pech worden benadrukt, en een schlemiel dus nooit sluw kan zijn. Gezien de context is het duidelijk dat ook hier alleen maar een pechvogel bedoeld kan zijn. Op internet vind ik een leuke uitleg van drie begrippen: de schlemiel, de schlemazzel, en de schmegegge:
A shlemiel is a person who not meaning to, causes an accident. For example, a diner at a restaurant sticks his leg out in an aisle, and causes a waiter to trip over it. The shlemazel is a waiter, carrying a bowl of soup, is the one who has the accident happen to him through no fault of his own. Accidents happen to shlemazels.
En voor de volledigheid, een derde:
The shmegege is a diner at a nearby table, totally uninvolved in the accident or its cause, has the bowl of soup fall on his head.
De schrijver van deze uitleg voegt hieraan toe: 'Dit leerde ik van mijn moeder, zeventig jaar geleden.' Dat verklaart misschien waarom velen van ons de betekenis van het woord 'schlemiel' niet zo precies kennen. Sommigen kennen het woord zelfs helemaal niet. Waar literair vertalen al niet goed voor is!
Is 'schlemiel' nog een begrip uit onze eigen geschiedenis en cultuur waar we op een adequate manier mee om moeten gaan, voor verhitte discussies zorgt de tweede tekst die we tijdens de workshop vertalen: het essay Terug naar Ithaca uit de bundel Opgespoorde wonderen (2003 en 2010) van Rudy Kousbroek (1929–2010), waarin hij aan de hand van de Odyssee beschrijft hoe hij terugverlangt naar zijn vader en zijn eigen verloren vaderland Indië. In de korte tijd die we voor de voorbereiding hebben, kan ik niet zien of er een kritisch commentaar bij de latere editie is geplaatst. Want dat had volgens de deelnemers eigenlijk wel gemoeten! Kousbroeks herinnering aan het land waar hij opgroeide, en waar zijn vader 'planter' was, plaatst ons voor een dilemma: moet het essay net zo nostalgisch vertaald worden als het is geschreven? Moeten we 'planter' vertalen door 'Pflanzer' of door 'Plantagenbesitzer', 'witte pakken' door 'weiße Anzüge', 'Herren in weißen Anzügen', of 'Kolonialherren'? En hoe zouden deze keuzes de tekst beïnvloeden?
Laat mij één keer schaamteloos terugverlangen naar het land zoals ik het heb gekend: vredig, lieflijk en schoon, op weg naar de rechtsstaat die daar had kunnen ontstaan en die 61 jaar later verder weg is dan ooit. Verlangen naar de witte toetoeps, naar het gevoel daar thuis te horen: ons land, mijn land, zonder iets te hoeven uitleggen.
Wie in Duitsland heeft ooit gehoord van witte toetoeps, of heeft kennis van het koloniale verleden van Nederland? We zijn het erover eens dat een kritisch voor- of nawoord een basisvoorwaarde voor een publicatie van dit soort mooie, maar zeer cultuurspecifieke nostalgische, het kolonialisme vergoelijkende teksten zou moeten zijn.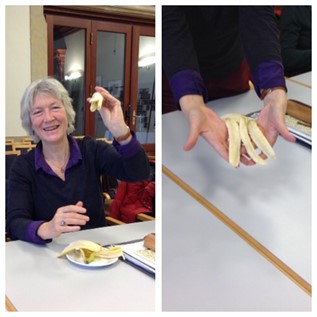 (Foto's: Andrea Kluitmann)
Ook al zitten er in die villa aan de Wannsee een stelletje serieuze Duitsers bij elkaar, de teksten waarmee we werken zorgen soms ook voor hilariteit. Als laatste tekst pakken we het stukje 'Boom der kennis' uit dezelfde bundel van Kousbroek. Het is volstrekt onvertaalbaar want het gaat over de meer dan tweehonderd soorten bananen die Indonesïe rijk was in de jeugd van Kousbroek. En laat de soortnaam dan ook nog eens pisang zijn, en niet banaan... Als Kousbroek schrijft: 'Zoals meer Indische kinderen [..] weet ik hoe je een pisang kunt splitsen in de drie delen waar hij uit bestaat', gaan we onmiddelijk tot actie over: 'duw de wijsvinger met enige kracht in het uiteinde van een geschilde vrucht en de drie delen wijken uit elkaar...' Ik wil het niet geloven tot ik het ervaar. En inderdaad, het maakt 'een diepe indruk'. Er zijn weer wat 'vensters' voor ons opengegaan, naar het verleden, naar de wereld, naar de veelvoud, daar in die gastvrije villa in Berlijn.