Als de herder vertaalt…
Vera Magnússon

Niet eentalig, niet tweetalig, maar 'anderhalftalig'. Zo zou ik mezelf (half-Nederlands, half-IJslands) omschrijven. Vreemd eigenlijk; nationale identiteit wordt schijnbaar in twee gelijke helften verdeeld (je bent half-dit, half-dat) terwijl het wél mogelijk is om twee hele talen naast elkaar te beheersen (je bent twéétalig). Dat laatste is niet van toepassing op mij. Hoewel ik mij een hele Nederlander en een hele IJslander voel, beheers ik het IJslands, in tegenstelling tot het Nederlands, maar half. Dit maakt dat ik in IJsland, waar ik drie talen door elkaar spreek (Nederlands, IJslands en Engels), bijzonder alert ben op alles wat met taal te maken heeft, vooral op de verschillen en overeenkomsten tussen talen. Ook deze zomer was ik weer in IJsland. En omdat ik bezig was met een scriptie over het vertalen van (Engelse) woordspelingen, is het niet verrassend dat het woord dat me tijdens mijn vakantie het meest is opgevallen een vertaalde woordspeling was. Het ging om de IJslandse vertaling van een recent benoemd, niet geheel onomstreden fenomeen: 'mansplaining'. Wat de IJslanders daarvan gemaakt hebben houd ik nog even voor me. Wat ik wel alvast zal zeggen is dat er schapen bij betrokken zijn.
Een groot verschil tussen het IJslands en het Nederlands is de manier waarop men nieuwe woorden in de taal introduceert. Het Nederlands maakt veelvuldig gebruik van leenwoorden, met als resultaat dat er Franse, Duitse en de laatste tijd vooral Engelse woorden in de Nederlandse woordenboeken te vinden zijn. In IJsland gaat het er anders aan toe. Toen de telefoon zijn intrede deed in IJsland, koos men ervoor om een oud woord dat niet meer gebruikt werd af te stoffen en nieuw leven in te blazen: het woord 'sími' (oorspronkelijk een 'lange draad') zou vanaf dat moment verwijzen naar 'telefoon'. Een soort recyclen eigenlijk; nieuwe wijn in oude zakken. Maar meestal kiest men voor een neologisme, bijvoorbeeld toen een andere technologische doorbraak IJsland bereikte, de computer, of, in goed IJslands, 'tölva'. Dit is een portmanteau bestaande uit 'tala' ('getal') en 'völva' ('waarzegster'); een nogal mystieke omschrijving van het ding zelf dus. Door de overheid gesteunde instituten en comités spelen een belangrijke rol in het behouden en bevorderen van de eigen taal. Maar de bevolking denkt ook mee, zo blijkt uit de onofficiële vertaling voor 'mansplaining'.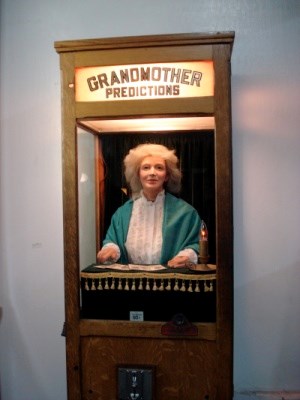 Het kwam ter sprake tijdens een zonnige wandeling in de hooglanden. Tussen het gepruttel en de zwaveldampen van de hete bronnen viel opeens het woord 'hrútskýring', de IJslandse vertaling van 'mansplaining', zo werd mij verteld. Met 'mansplaining', een combinatie van 'man' en '(to) explain', wordt het fenomeen bedoeld waarbij een man op neerbuigende wijze iets uitlegt aan een vrouw, doorgaans iets wat ze allang weet of iets waar zij zelf meer verstand van heeft. Ook in andere talen is men op zoek gegaan naar vertalingen van de Engelse term, die in 2008 geïntroduceerd werd door de Amerikaanse schrijfster Rebecca Solnit. Zo komen we in het Duits 'Herrklärung' tegen en spreken de Franstaligen van 'mecsplication', allebei vertalingen die uit een vergelijkbare combinatie van de elementen 'man' en 'uitleg' bestaan. De IJslanders gaan mogelijk een stapje verder met 'hrútskýring', een samentrekking van 'hrútur' (ram) en 'útskýring' (uitleg). (Daar komt het schaap uit de mouw!) 'Hrútur' wordt niet alleen gebruikt voor het dier, maar ook om mannen mee te omschrijven, meestal een bepaald soort man (enigszins vergelijkbaar met het Nederlandse 'haantje'). Zo zegt men bijvoorbeeld dat er sprake is van 'hrútalykt', of 'ramslucht', wanneer een bepaald bestuursorgaan vrijwel uitsluitend uit mannen bestaat (Sigurðardóttir). 'Mansplaining' leidde in zijn oorspronkelijke vorm al tot discussie, maar door de man gelijk te stellen aan een koppig dier, hebben de IJslanders de term zelfs nog verder aangescherpt.
Omdat ik mijn scriptiebril nog op had, benaderde ik de mededeelzame rammen automatisch als een van de woordspelingen uit mijn onderzoek. Woordspelingen zijn gelaagd; verschillende niveaus (semantisch, formeel, fonetisch, etc.) werken op elkaar in. Hierdoor kan een relatief compacte eenheid een boel informatie omvatten. Woordspeling is daarom een uitermate geschikt middel om (verhulde) kritiek mee te leveren, aangezien je er meerdere, tegenstrijdige boodschappen mee kunt uitdragen. Deze gelaagdheid betekent ook dat woordspeling vaak ambigu is en, meer dan bij 'gewone' taal het geval is, op meerdere manieren gelezen en geïnterpreteerd kan worden. Voor vertalers levert dit de nodige uitdagingen op. Ook komt het voor dat vertalers (onbewust) hun eigen opvattingen laten doorschemeren in de vertaling van woordspeling. Ik moest denken aan een aantal inzichten van Dirk Delabastita:
… translators of wordplay can be pushed to extremes and forced to show their cards. What is their understanding of the original text? What are the layers of meaning and the textual devices they regard as most central? […] The translation of wordplay can even document the translator's politics insofar as wordplay often has a subversive quality about it (Traductio11)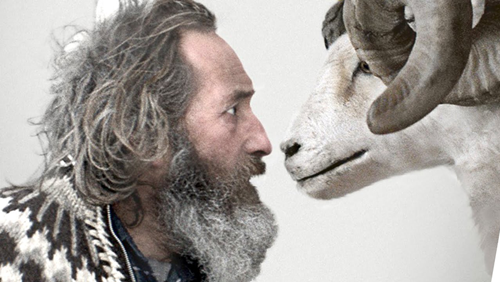 Een beeld uit de zwarte komedie Hrútar (2015) van Grímur Hákonarson 
De keuze voor 'hrútur' in de IJslandse vertaling van 'mansplaining' lijkt te getuigen van een cynischere, maar misschien ook komischere interpretatie dan bijvoorbeeld de Duitse en Franse vertalingen. 'Hrútskýring', waarschijnlijk bedacht door de IJslandse schrijver Hallgrímur Helgason, was een succes in IJsland; er werd zelfs geopperd dat de vertaling een beter beeld gaf van het fenomeen dan de oorspronkelijke Engelse verwoording: '… men zou zelfs kunnen zeggen dat het de lading van het Engelse mansplaining nog beter dekt. De bredere betekenis van het eerste deel van de IJslandse samenstelling ['hrútur'] laat net iets meer van de achterliggende betekenis doorschemeren dan de Engelse samenstelling' (Sigurgísladóttir).1 De veelzijdigheid van het woord 'hrútur' maakt de vertaling volgens de auteur accurater dan het origineel. Als we Delabastita's redenering volgen, laat de auteur hiermee vooral zien wat haar eigen interpretatie van 'mansplaining' is en welke 'laag van betekenis' zij essentieel acht ('de achterliggende betekenis'). En schijnbaar kunnen veel IJslanders zich in deze interpretatie vinden.
Wat het voorbeeld van 'hrútskýring' voor mij benadrukt is dat de toon en het effect van een woordspeling kunnen verschuiven wanneer ze vertaald wordt en dat dit, zeker bij kritische woordspelingen, verschillende interpretaties en opvattingen kan belichten. Maar al kunnen de meningen over de precieze benaming en over het fenomeen zelf sterk verschillen, toch lijkt 'hrútskýring' tot de IJslandse verbeelding te spreken, zo blijkt tenminste uit het succes van de vertaling: 'hrútskýring' werd verkozen tot woord van het jaar 2016 en versloeg daarmee onder andere twee geduchte tegenstanders uit de EK-wereld, 'hú!' en 'víkingaklapp', die voor voetbalkijkers waarschijnlijk geen vertaling behoeven.
Noot
1 '... og mætti jafnvel segja að það nái betur yfir hugtakið en hið enska mansplaining. Útvíkkuð merking fyrri liðar íslensku samsetningarinnar gefur örlítið meiri innsýn inn í merkinguna sem að baki býr en í ensku samsetningunni.' (vertaling VM)
Bronnen
Delabastita, Dirk. 1997. 'Introduction'. in: Dirk Delabastita (ed.), Traductio: Essays on Punning and Translation. Manchester: St. Jerome, p. 1-22.
Sigurðardóttir, Lára Halla. 2016. 'Örskýring: Hvað er hrútskýring?', Nútíminn. Nútíminn, 27 september. [Geraadpleegd 9 augustus 2019]
Sigurgísladóttir, Anna Gyða. 2017. 'Orð ársins 2016: Hrútskýring.' RÚV. Ríkisútvarpið, 6 januari. [Geraadpleegd 7 augustus 2019]
Vera Magnússon (1993) studeerde Literatuurwetenschap aan de Universiteit van Amsterdam en volgt momenteel de master Vertalen aan de Universiteit Utrecht.