Puntmutsen en puntoren: kabouters in Middenaarde
Vera Magnússon

Terwijl Bilbo Balings, de titelheld uit J.R.R. Tolkiens De hobbit, aan het bijkomen is van zijn confrontatie met de reusachtige spinnen van het Demsterwold, grijpt de verteller van het boek de gelegenheid aan om het een en ander op te helderen over de inwoners van dit griezelige woud waar Bilbo en zijn dwergenvrienden in verdwaald zijn geraakt. De aanleiding hiervoor is een eerdere ontmoeting met de Boselfen, die, zo legt de verteller vriendelijk en geduldig uit als een Middenaardse David Attenborough, maar één van de vele soorten elfen zijn die Middenaarde kent:
The feasting people were Wood-elves, of course ... They differed from the High Elves of the West, and were more dangerous and less wise. For most of them (together with their scattered relations in the hills and mountains) were descended from the ancient tribes that never went to Faerie in the West. There the Light-elves and the Deep-elves and the Sea-elves went and lived for ages, and grew fairer and wiser and more learned, and invented their magic and their cunning craft in the making of beautiful and marvellous things, before some came back into the Wide World. (The Hobbit 155)
De verteller gaat kort in op de verschillen tussen deze soorten en bespreekt hun oorsprong, gewoonten en leefomgeving om ten slotte weer terug te komen op de Boselfen, die de leider van Bilbo's gezelschap, Thorin, gevangenhouden in hun ondergrondse paleis.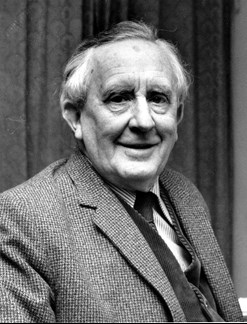 J.R.R. Tolkien
Over de bronnen die Tolkien gebruikte bij de creatie van zijn mythische wereld is heel wat gepubliceerd. Als hoogleraar Engelse taal- en letterkunde was Tolkien welbekend met het Oudengels van de Angelsaksen. Hij schreef zelfs enkele liedjes en gedichten in het Oudengels en critici vinden in zijn werk tal van verwijzingen naar de Angelsaksische verhalen en cultuur (Porck 66). Ook de bovengenoemde episode bevat echo's van Angelsaksische bronnen. Zo zijn Tolkiens elfen, net als hun Angelsaksische tegenhangers, goed- noch kwaadaardig (Porck 71). Ook zijn er sterke overeenkomsten tussen Tolkiens classificatie van de elfen en classificaties in Angelsaksische lexicons:
...Tolkien's distinction between different types of elves, such as the Wood-Elves, High elves, Light-elves, Deep-elves and Sea-elves ... has a clear analogue in the Anglo-Saxon lexicon, which features similar subcategories of elves. A small Latin-Old English glossary kept in the University Library of Leiden, for example, includes a short catalogue of words denoting elves that include "dun ælfinne" [dune or hill elves], "wudu ælfinne" [wood elves], "wæter ælfinne" [water elves], "feld ælfinne" [field elves] and "sæ ælfinne" [sea elves]... (Porck 72).
Tolkiens 'Wood-elves' en 'Sea-elves' worden in de Angelsaksische classificatie genoemd en ook de Angelsaksische 'hill elves' lijken een Middenaards equivalent te hebben, namelijk de 'scattered relations in the hills and mountains' van de 'Wood-elves' (The Hobbit 155).
De geciteerde passage uit The Hobbit met de verwijzing naar de Angelsaksische elfen lijkt misschien geen grote vertaalproblemen op te leveren. Toch is er in de Nederlandse vertaling van Max Schuchart (1920–2005) iets interessants gebeurd. Schuchart had zich eerder al in Tolkiens universum ondergedompeld voor zijn vertalingen van The Lord of the Rings, een prestatie waarvoor hij in 1959 de Martinus Nijhoff Prijs in ontvangst mocht nemen (Koster 118). Een jaar later verscheen De hobbit. Als we de elfenpassage in deze vertaling opzoeken, treffen we het volgende aan:
De feestende lieden waren natuurlijk Boselfen geweest ... Zij verschilden van de Hoge elfen van het westen en waren gevaarlijker en minder wijs. Want de meesten van hen (en ook hun verspreide verwanten in de heuvels en de bergen) stamden af van de zeer oude geslachten die nooit naar het Feeënrijk in het Westen gingen. Daar woonden de Lichtelfen en de Diepelfen (of kabouters) en de Zeeëlfen eeuwenlang en werden schoner en wijzer en geleerder en vonden hun tovenarij en handwerkkunst voor het maken van schone en wonderlijke dingen uit voordat zij terugkeerden naar de Wijde Wereld. (De hobbit 133, gecursiveerd voor nadruk)
Een vertaling zonder veel verrassingen, afgezien van een kleine toevoeging tussen haakjes: kabouters. Hier keek ik toch wel even van op. Kabouters? In Middenaarde? Ik begon me af te vragen waarom Schuchart deze opvallende keuze had gemaakt. Zou het kunnen dat hij de Angelsaksische kost van het origineel wat behapbaarder wilde maken voor een Nederlandstalig publiek? De hobbit wordt beschouwd als een werk dat ook voor jonge lezeres toegankelijk is en in jeugdliteratuur is het niet ongebruikelijk om culturele verwijzingen te vervangen door een verwijzing met een vergelijkbare functie die in de doeltekst bekend is (Desmet 34-35). In het fragment uit Schucharts vertaling wordt de verwijzing naar het Angelsaksische lexicon, de classificatie van elfen, behouden. De toevoeging van 'kabouters' is mogelijk bedoeld om bij de lezers een vertrouwder beeld op te roepen. Als dit Schucharts overweging was, heeft hij goed ingezien dat De hobbit wezenlijk van toon verschilt met het serieuzere In de ban van de ring. De vrij aanwezige verteller van De hobbit reflecteert vaak op komische wijze op de gebeurtenissen in het boek en zorgt zo voor wat afstand tussen de lezer en de personages, ook als er spannende of zelfs griezelige dingen gebeuren. Schuchart vertaalde in feite tegen de tijd in: eerst The Lord of the Rings en daarna The Hobbit. Toch lijkt hij wezenlijke verschillen tussen beide werken te hebben herkend. Misschien is een vergelijking met de verfilmingen van Peter Jackson hier interessant; de verfilmingen van The Lord of the Rings en die van The Hobbit hebben duidelijk dezelfde toon en stijl, iets wat van de boeken waarop ze gebaseerd zijn niet gezegd kan worden.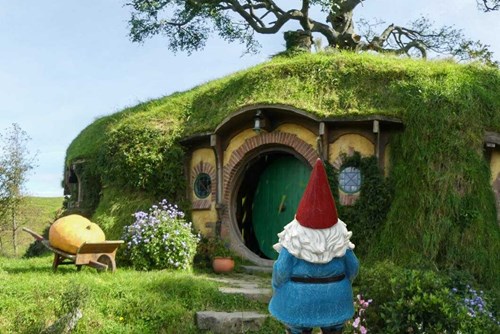 Kabouters in Middenaarde?
Misschien is er nog een andere mogelijke verklaring voor de plotselinge entree van de kabouters. Die vergt wat meer opzoekwerk. Tolkien heeft zijn visie van Middenaarde regelmatig bijgeschaafd; er zijn dan ook boeken volgeschreven over de totstandkoming van zijn universum en de evoluties die zijn verhalen en personages hebben ondergaan. Een voorbeeld hiervan is Tolkiens classificatie van de elfen. In vroegere werken gebruikte hij een andere benaming om de 'Deep-elves' mee aan te duiden, namelijk 'Gnomes' (Martsch 297). Zou dit dan een verklaring kunnen zijn voor 'kabouters'? Die 'Gnomes' zullen voor velen misschien als een verrassing komen. Deze mythische wezens staan immers bekend om hun kleine postuur en zijn verwant aan kabouters. Tolkiens elfen zijn daarentegen even groot als mensen (De Rosario Martínez 73). Tolkien koos de benaming 'Gnomes' aanvankelijk vanwege de connotatie met wezens die ondergronds leven maar legde later een – overigens geheel fictief – etymologisch verband tussen de term 'Gnomes' en het Griekse γνωμή, wat onder andere 'kennis' kan betekenen (De Rosario Martínez 80). Dit soort complexe (en continu evoluerende) taalkundige en cultuurhistorische achtergronden zijn kenmerkend voor Tolkiens werk. Tolkien nam uiteindelijk afstand van de benaming 'Gnomes' voor de Diepelfen of de 'Noldor' (80), zoals hij ze ook wel noemde, maar de associatie met wijsheid bleef behouden; in In de ban van de ring maken we kennis met een van de laatste Diepelfen in Middenaarde: Galadriel, de rijzige, beeldschone Vrouwe van Lothlórien die bekendstaat om haar wijsheid. Het zou echter kunnen dat Schuchart bij het vertalen van The Hobbit teruggreep naar Tolkiens oudere mythologieën en zo bij 'Gnomes' uitkwam. Er is voor zover ik kan zien geen onomstotelijk en duidelijk antwoord op de vraag waarom Schuchart de kabouters in zijn vertaling toevoegde; hier is op zijn minst meer onderzoek voor nodig. Tot die tijd vermaak ik mezelf door me Tolkiens wijze en gracieuze elfen voor te stellen met kleine rode puntmutsjes op.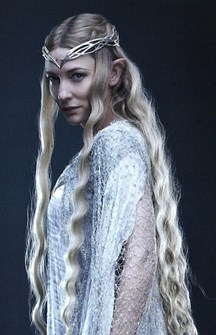 Niet bepaald gnoomachtig: Cate Blanchett als Deep-elf Galadriel in de verfilming van Peter Jackson. 
Bibliografie
De Rosario Martínez, Helios. 2010. 'Fairy and Elves in Tolkien and Traditional Literature', Mythlore: A Journal of J.R.R. Tolkien, C.S. Lewis, Charles Williams, and Mythopoeic Literature, 28:3, p. 65-84. SWOSU Digital Commons. Web. 14 jan. 2019.
Desmet, Mieke K. T. 2001. 'Intertextuality/Intervisuality in Translation: The Jolly Postman's Intercultural Journey from Britain to the Netherlands', Children's Literature in Education, 32:1. p. 31-43. Springer Link. Web. 17 nov. 2018.
Koster, Cees. 2007. 'Max Schuchart', Jaarboek van de Maatschappij der Nederlandse Letterkunst, p. 114-123. DBNL. Web. 4 jan. 2019.
Martsch, Nancy. 1996. 'A Tolkien Chronology', Mythlore: A Journal of J.R.R. Tolkien, C.S. Lewis, Charles Williams, and Mythopoeic Literature, 21:1, p. 291-97. SWOSU Digital Commons. Web. 14 jan. 2019.
Porck, Thijs. 2012. 'The Bones in the Soup: The Anglo-Saxon Flavour of Tolkien's The Hobbit', Lembas Extra 2012. Amersfoort: Tolkien Genootschap Unquendor, p. 65-74. Humanities Commons. Web. 7 dec. 2018.
Tolkien, J.R.R. 1977. De hobbit. Vertaald uit het Engels door Max Schuchart. Utrecht: Het Spectrum.
Tolkien, J.R.R. 1972. The Hobbit. London: Unwin Books.
Vera Magnússon (1993) studeerde Literatuurwetenschap aan de Universiteit van Amsterdam en volgt momenteel de master Vertalen aan de Universiteit Utrecht.