Het vruchtbare leven van Michael Hamburger
Vera Magnússon

Vlak voordat de laatste dagen van december in al hun feestelijk geweld losbarstten, kreeg ik de kans om de vertoning van een bijzondere film bij te wonen. Deze filmvertoning maakte onderdeel uit van een symposium over de Duitse schrijver W.G. Sebald (1944–2001): Memory, Word and Image: W.G.Sebald's Artistic Legacies. Een aantal regenachtige dagen lang stonden verschillende plekken in Amsterdam in het teken van deze gevierde schrijver. Ook kunstenaarsboekenwinkel en galerie Boekie Woekie, waar ik werk, nam deel aan het programma met een prachtige kleine tentoonstelling van de organisator van het symposium, Christa-Maria Lerm Hayes, over de Britse kunstenares en filmmaker Tacita Dean, die in haar werk regelmatig naar Sebald verwijst. Er was tijdens het symposium ook aandacht voor de Engelse vertaler en goede vriend van Sebald, Michael Hamburger. En over deze Hamburger wil ik het nu hebben. Hamburger vormde namelijk het onderwerp van een korte biografische film van Dean die ter gelegenheid van het Sebaldsymposium in het Stedelijk Museum werd vertoond. Omdat Sebald centraal stond, was ik aanvankelijk verbaasd dat er in de film, Michael Hamburger (2007), met geen woord wordt gesproken over vertalen of over Sebald, laat staan over het vertalen van Sebald. Toch denk ik dat de film, die alleen al vanwege de schitterende beelden het kijken dubbel en dwars waard is, wel degelijk ingaat op Hamburgers vertaalcarrière en een veelzeggend beeld schetst van de praktijk van het vertalen.
Michael Hamburger werd in 1924 in Berlijn geboren. Zijn jeugd in Duitsland was kort; in 1933 ontvluchtte de Joodse familie Hamburger het toenemende antisemitisme in Duitsland en vestigde zich in Groot-Brittannië. Daar schreef Hamburger zijn eerste gedichten en vertalingen. Zijn studie aan de universiteit van Oxford moest hij in 1943 onderbreken om in militaire dienst te gaan. Hij werd naar Italië en Oostenrijk gestuurd en bezocht tevens zijn geboortestad Berlijn, waar hij met eigen ogen het verwoestende effect van de oorlog waarnam. Na zijn diensttijd maakte Hamburger zijn studie af waarna hij lesgaf aan verschillende universiteiten in Engeland en de VS. Ondertussen bleef hij gestaag gedichten, vertalingen en kritische werken produceren. Hij bracht enkele dichtbundels met origineel werk uit maar werd — tot zijn ongenoegen — vooral bekend als de vertaler van andere dichters, zoals Hölderlin, Baudelaire, Rilke, Celan en Grass.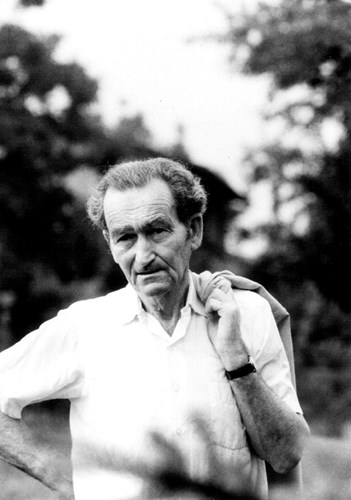 Michael Hamburger
Hamburgers laatste poëzievertalingen waren twee bundels van Sebald, After Nature (2002) en Unrecounted (2004). Hamburger en de jongere Sebald scheelden twintig jaar. Er ontstond een bijzondere vriendschap. Ondanks het verschil in leeftijd konden ze uit vergelijkbare ervaringen putten. Beiden waren vanuit Duitsland naar Engeland geëmigreerd, vestigden zich in East-Anglia en combineerden het schrijverschap met een academische carrière. Hamburger duikt zelfs op als personage in Sebalds roman De ringen van Saturnus, waarin de ronddwalende verteller een bezoek brengt aan Marsh Acres, Hamburgers rustieke woonplaats in Middleton, Suffolk. Sebald illustreert dit bezoek met een foto van Hamburgers statige maar sobere houten bureau bezaaid met papieren. Door hoge ramen in Tudorstijl stroomt het buitenlicht binnen. Het tafereel heeft iets romantisch en zou zo het decor van een prerafaëlitisch schilderij kunnen zijn. Met deze foto van Hamburgers werkplek lijkt zijn leven als dichter en vertaler bondig te worden samengevat: een man die een teruggetrokken maar productief leven leidt, een man die altijd een pen in zijn hand heeft. Maar Hamburger had naast schrijven nog een andere creatieve passie; en juist deze passie vormt het uitgangspunt van Tacita Deans sfeervolle biopic.
Dean schoot haar portret van Hamburger tijdens een bezoek aan Marsh Acres en de omliggende tuin. Dean staat bekend om haar gebruik van anamorf breedbeeld; het eerste wat dan ook opvalt aan de film is hoe uitgestrekt en imposant het landschap van de openingsscène is. We zien bomen in vol blad met takken die bewegen in de harde wind. Hoge wolken glijden ijlings voorbij en schuiven zo nu en dan voor de zon waardoor de boomgaard — want dat blijkt het te zijn — afwisselend in zonlicht gedrenkt en in koele schaduwen gehuld wordt. De gaarde heeft iets wilds; geen nette rijen en kort gemaaid gras maar een dichtbegroeid woud van appelbomen. Een aanzienlijk deel van de 28-minuten-durende film bestaat uit lange, verstilde beelden van de verlaten boomgaard. Het enige geluid is het ruisen van de wind. Plots zien we hoe een figuur zich met langzame maar zelfverzekerde stappen van boom naar boom verplaatst. Takken beperken ons zicht en het beeld van de rondlopende figuur is onscherp. Even later staan we in een schaars ingerichte kamer die bijna geheel wordt ingenomen door een werkbank met rijen appels in alle soorten en maten. Tegen het licht dat door de ramen naar binnenvalt tekent zich een silhouet af: de figuur uit de boomgaard, Michael Hamburger. Nog steeds krijgen we geen gezicht te zien. De camera focust op de appels en de verweerde handen die ze één voor één oppakken. Hamburger begint te vertellen. Elke appel heeft een naam en een verhaal. Hij vertelt waar ze vandaan komen, beschrijft hun smaak en wijst zijn favoriete appelrassen aan. (Onze eigen Nederlandse Boskoop wordt hoog aangeslagen!) Hamburger lijkt een voorkeur te hebben voor obscure, weinig commercieel verbouwde soorten; appels met karakter. De kijker leert Hamburger dan ook aanvankelijk kennen door zijn appels, niet door zijn schrijven.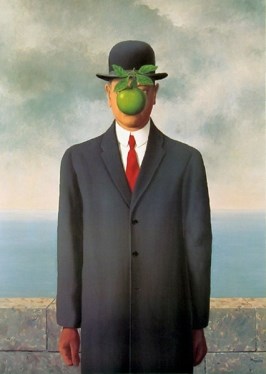 De kijker leert Hamburger aanvankelijk kennen door zijn appels, niet door zijn schrijven
Langzamerhand krijgt de kijker steeds meer te zien van Hamburger maar pas tegen het einde van dit intieme portret komt Hamburger daadwerkelijk met zijn gezicht in beeld. Dit is ook het punt waarop hij in beeld komt als dichter in plaats van appelteler (zijn vertaalwerk blijft daarentegen onbesproken). Maar wanneer hij een van zijn eigen gedichten voorleest, blijkt dat ook Hamburger de dichter onlosmakelijk verbonden is met zijn appelboomgaard. Hij leest een gedicht voor, een ode aan de bevriende dichter Ted Hughes (1930-1998) naar aanleiding van diens overlijden:
For Ted Hughes
October 29th 1998
After Gale and flood, on the brink of winter I see
A faint half-moon, haloed in haze half-earthly.
The huntress's light, Artemis, delicate as a cat
In her art of killing, self contained as a cat,
Adored for that, seducer to sacrifice.
But morning's, Apollo's and Aphrodite's
Cruelly too shines on the planters. the breeders
Of perishing cattle, crops.
Then it is love that hurts, not the coldness. 
Both he must serve who was born in high summer,
Compelled to mother the children half-orphaned,
Magnanimous helper, friend.
Uneaten this day of his death
in either light the dark Devonshire apples lie
That from seed I raised on a harsher coast
In remembrance of him and his garden.
Difference filled out the trees,
Hardened, mellowed the fruit to outlast our days. (Hamburger 2000: 56)
In de laatste strofe verwijst Hamburger direct naar zijn eigen boomgaard, die aan de ruige Noordzeekust van Suffolk grenst. Hamburger vertelt hoe hij van Hughes ooit een aantal appelpitjes kreeg waar hij, ondanks de geografische verschillen tussen Suffolk en Devonshire, volwassen bomen uit wist te kweken als aandenken aan zijn vriend: 'it was a kind of link between us if I could have this apple in a Suffolk garden where it didn't really belong' (2009 'Tacita Dean'). Dit is het moment waarop plots Hamburger de vertaler voor mij zichtbaar werd, want is dit niet een prachtige metafoor voor het vertalen? Brengen vertalers immers niet een uitheems werk naar hun eigen klimaat, waar het eigenlijk niet thuishoort, en doen ze niet al het mogelijke om ervoor te zorgen dat het werk in deze nieuwe vreemde bodem tot bloei komt? In een toelichting op haar film gaat Dean zelf in op het idee van de appel als metafoor:
I had a personal connection to [Michael Hamburger] and I was told he had an orchard. When I filmed him I filmed quite a lot and I talked to him about Sebald and all sorts of other things but in the end I made my film just about apples. It was in cutting the film that I realized it was the most important thing and through apples he talked about everything else as a metaphor… (2009 'Tacita Dean')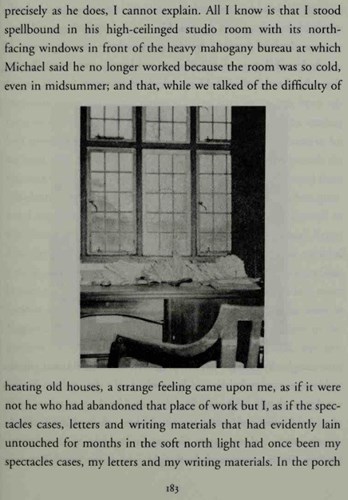 Werkkamer van Michael Hamburger
(foto uit de Engelse vertaling van Sebalds Die Ringe Des Saturn, waarin de vertaler optreedt als personage)
Dean gebruikt nog andere manieren om naar Hamburgers vertaalwerk te verwijzen. Terwijl Hamburger aan het woord is, toont de camera verstilde beelden van kleine details in en rondom het oude plattelandshuis. Bovenop een stapel boeken in een van de kamers ligt een dichtbundel van Günter Grass, een van de dichters die hij vertaalde. Beeldspraak en sprekende beelden; het zijn manieren waarop vertalen toch ter sprake komt.
De film is bijna afgelopen. We kijken nu tegen de rug van Hamburger aan terwijl hij aan tafel zit en zich over zijn werk buigt. Is hij aan het vertalen? Aan het dichten? Of gewoon aan het lezen? Hij zucht en gaat anders zitten, zijn schouders zijn gespannen en dunne slierten rook van zijn pijp of sigaret kringelen omhoog en lossen op. 'My work has become about traces and capturing things before they disappear', zegt Dean over haar film. 'It's all about the recording of an atmosphere and usually it's transient in a sort of way' (Dean in 'Tacita Dean'). Dean legt het vergankelijke vast; zonlicht door ruisende bladeren, rottende appels aan groene takken en een regenboog, het laatste beeld van de film. Maar ze legt vooral Michael Hamburger vast; hij overleed enkele maanden na de opnames.
Bibliografie
2009. 'Tacita Dean – Michael Hamburger 2007', op www.tate.org.uk. Tate. Web. 24 jan. 2020.
Fryer, Jonathan. 2007. 'Michael Hamburger: Poet, Translator and Academic, More Acclaimed in Germany than in Britain', op www.theguardian.com. Guardian News & Media Limited. Web. 24 jan. 2020.
Hamburger, Michael. 2000. 'For Ted Hughes', in: id.  Intersections. London: Anvil Press Poetry, p. 56.
Schütte, Uwe. 2018. 'The Rings of Saturn (1995)', in id. W. G. Sebald. Liverpool: Liverpool University Press, p. 72-87. Google Books. Web. 24 jan. 2020.
Vera Magnússon (1993) studeerde Literatuurwetenschap (BA) aan de Universiteit van Amsterdam en Literair Vertalen (MA) aan de Universiteit Utrecht. Ze is momenteel werkzaam bij 'Boekie Woekie, books by artists' in Amsterdam.
Reageren? info@tijdschrift-filter.nl.